A speech pathology bachelor's degree provides a solid foundation in speech science, audiology, and language development and is the standard first-step degree for those who go on to earn a master's or doctoral degree in preparation for a career in speech-language pathology or audiology.
But a speech pathology bachelor's degree also serves as a great stand-alone degree that can prepare you for a number of amazing careers that don't necessarily require you to earn an advanced degree and certification.
Why a Speech Pathology Bachelor's Degree?
A speech pathology bachelor's degree focuses on the biological, physical, social, and linguistic aspects of communication. Through this undergraduate course of study, students complete an interdisciplinary framework that includes foundational courses in biology, linguistics, acoustics, language science, psychology, cognitive science, and human development over the lifespan.
It's a solid course of study for both aspiring speech-language pathologists (SLPs) and for others looking for a comprehensive background in the communication sciences (the study of both the normal development of speech, language, and hearing and how impairments can impede an individual's development and well-being).
For many, a speech pathology bachelor's degree provides the easiest transition to a master's in the same field, which is the minimum education for becoming a state-licensed and certified SLP.
While many master's degree programs in speech-language pathology accept students with a variety of undergraduate degrees, a speech pathology bachelor's degree paves the way to studying communication sciences at the master's level without the inconvenience of taking missed prerequisites.
To this end, many schools that offer a master's in SLP also offer a bachelor's, ensuring a truly painless move from your undergraduate program to your graduate studies. A number of schools also offer an accelerated course of study for aspiring SLPs that allows them to complete both their undergraduate and graduate study in speech-language pathology in one program that runs just five years. These time-saving, money-saving programs simply can't be beat.
What Can I Do With a Bachelor's in Speech Pathology? – Speech Pathology Bachelor Degree Jobs
As you know at this point, becoming a speech-language pathologist (SLP) involves completing earning a master's in speech-language pathology, national certification, and state licensure.
But what if you've earned a speech pathology bachelor's and you've decided that going on to earn a graduate degree just isn't right for you – or isn't right for you right now? Or what if you're interested in this appealing interdisciplinary course of undergraduate study but have no immediate plans to move on to become an SLP?
No worries in any of those situations – a speech pathology bachelor's degree can kickstart any number of exciting careers.
A bachelor's degree in communication sciences and disorders, which is most often referred to as a speech pathology bachelor's degree because it serves as the foundation for a master's in SLP, can position you for success in a number of careers.
If you're ready to head into the working world after completing a bachelor's degree in speech pathology, you're in luck. There are plenty of jobs for those who hold speech pathology degrees at the bachelor's level.
A speech pathology bachelor's degree can prepare you for a variety of jobs in the life sciences, social sciences, and human services fields. Sales, public relations, media, and health and human services are all ideal careers for graduates of speech pathology bachelor's degrees.
However, the most popular speech pathology bachelor degree jobs are still within the field of communication sciences and disorders and often include:
Speech-Language Pathologist Assistant (SLPA)
A speech-language pathologist assistant (SLPA) is the right-hand person to the SLP. Because they're not credentialed or trained for independent practice, SLPAs perform specific clinical tasks that are prescribed, directed, and supervised by certified SLPs.
You may have heard of both speech language assistants and speech language aides. Each state distinguishes between the two based on their level of training and responsibilities. In general, however, aides have a more narrow job title and more limited responsibilities than SLPAs. To work as either an assistant or aide, you'll always need to perform your job under the supervision of a certified SLP.
SLPAs play an important – and cost-efficient – role in speech-language therapy. SLPs may assess clients and implement plans of care that are then carried out by qualified SLPAs, thereby saving time and money while accommodating a growing client base.
While providing therapy services continue to be the leading role of SLPAs, according to ASHA, they also perform a number of other tasks, including:
Preparing for therapy sessions
Talking with patients and their families and sharing updates about a client's progress
Performing administrative tasks
Engaging in prevention activities
Like SLPs, SLPAs may work in a variety of settings, including hospitals, rehabilitation centers, skilled nursing facilities, schools, and home healthcare with adults and children of nearly any age.
After graduating from a bachelor of speech pathology program, completing at least 100 hours of clinical work as an SLPA student and passing the national exam, you'll earn certification as a C-SLPA through the American Speech-Language-Hearing Association (ASHA).
Note: Not all states recognize SLPAs and those that do generally do not license them, instead credentialing them as support personnel under an SLP's license. In some states or school districts, SLPAs are classified as teacher assistants.
Audiologist Assistant
Audiologist assistants work under the supervision of a certified audiologist. Similar to SLPAs, audiologist assistants can't work independently, but they can provide audiology services and perform tasks prescribed, directed, and supervised by audiologists under direct or indirect supervision.
One of the major duties of an audiologist assistant is to administer tests and screenings (e.g., otoscopy, tympanometry, audiometry, etc.) ordered by the audiologist.
Some of the other tasks handled by audiologist assistants include:
Maintaining equipment and tools
Monitoring inventory
Repairing hearing aids
Checking the functionality of audiology equipment
Supervising the audiologist during testing
Preparing patients for audiology tests like electrophysiologic and balance testing
Performing administrative tasks
Audiologist assistants help handle large client loads and free up time to allow an audiologist to focus on more complex evaluations and treatments.
While audiologist assistants don't technically need to hold a speech pathology bachelor's degree, this degree is designed to prepare students with the specialized knowledge and skills to serve as a trusted, competent audiologist assistant and often results in a higher earning potential. The skills and knowledge earned through a speech pathology bachelor's qualifies students to hold audiologist assistant positions in schools, hospitals, health clinics, early intervention centers, rehabilitation centers, nursing homes, and more.
Note: Not all audiologist assistants are licensed to practice. Some states require licensure, while other states require registration.
Rehabilitation Aide
Rehabilitation aides work under the supervision or a physical therapist or physical therapist assistant. They support the physical therapist in many support tasks and help make sure the practice runs efficiently. Their tasks may be clerical (completing paperwork, answering phones, setting up appointments, contacting clients, handling insurance documents, etc.) or clinical (preparing treatment areas, helping transport patients, performing routine patient care tasks, etc.) in nature.
Similar to audiologist assistants, rehabilitation assistants don't need a speech pathology bachelor's, but holding this level of education opens up more professional doors and increases their earning potential.
How Can I Build On What I Learn in a Speech Pathology Bachelor's Degree Program?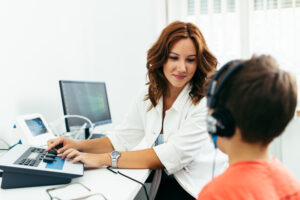 While a bachelor's degree in speech-language pathology prepares students for a nice variety of careers, build upon it with a master's or doctoral degree and you'll be eligible for the lead role as either a speech-language pathologist or audiologist, and the top salaries that come with it.
According to the Bureau of Labor Statistics (BLS), SLPs earned an average salary of $83,240 as of May 2020. Top earners in this profession (those at the 90th percentile) earned about $122,790 during this time. During the same period, the BLS reported an average salary of $89,230 for audiologists and a top salary of about $128,160.
Although the BLS does not maintain salary stats for SLPAs and audiologist assistants, ASHA reports that these professionals earn about 60 – 70% of what SLPs and audiologists earn.
SLPs also enjoy opportunities to earn specialty certification, specialize their area of practice according to patient type (pediatrics, geriatrics, etc.), disorder (aphasia, apraxia, cognitive-communication disorders, etc.), and setting (hospital, outpatient, home-based, etc.), and branch out as independent practitioners.
EXPLORE SLP BACHELOR'S PROGRAMS!
A Bachelor's Can Be the First Step to Other Jobs with a Speech Pathology Degree
SLP – After completing a speech pathology bachelor's degree, you'll need to complete a Council on Academic Accreditation (CAA)-accredited master's degree (MS) in speech-language pathology or communications disorders. If you're interested in practice, you'll choose a non-thesis track; students interested in research or academia will choose a program with a thesis track.
You'll need to complete a supervised clinical experience of at least 400 hours. During this time, you'll gain valuable experience with individuals across the lifespan and with various communication and/or related disorders with different levels of severity.
You'll then take and pass the American Speech-Language-Hearing Association's (ASHA) national examination to earn the Certificate of Clinical Competency in Speech-Language Pathology (CCC-SLP) before going on to earn state licensure. Most states now recognize the CCC-SLP as a pathway to state licensure.
Audiologist – Aspiring audiologists often choose a speech pathology bachelor's degree, although some students also choose to major in biology, chemistry, or pre-medicine at the undergraduate level.
You'll then pursue a CAA-accredited Doctor of Audiology (AuD) program, which takes about four years to complete. The first two years of a doctorate in audiology consist primarily of foundational coursework and clinical observations, while the last two years include hands-on clinical experiences, including a practicum/internship.
Upon graduation, they go on to take and pass the Praxis exam in Audiology before applying for state licensure to practice as an audiologist.
Professional certification options in audiology include the Certificate of Clinical Competence in Audiology (CCC-A) and the American Board of Audiology (ABA) certification.
<!- mfunc feat_school ->
<!- /mfunc feat_school ->