SpeechPathologyGraduatePrograms.org is owned and operated by Wiley University Services. Our content originates from many different education content writers. Our views and opinions are our own and for information purposes only. We want this website to serve as a directory guide, or an on-ramp, for educational programs as you explore the many options available. Please note the higher ed landscape is expansive; we do not include every option available and encourage you to conduct your own independent research.
Please view our advertiser disclosure to learn more about our content, how we are compensated, and what to expect if you submit a request for information form.
To get in contact with us for updates or anything else, please email here: olm@wiley.com.
Our Contributors
Speech-language pathologists are team players, working alongside physicians and nurses in acute care settings, augmenting and supporting the work of physical and occupational therapists in rehabilitation clinics, and helping educators and parents implement individual education plans in the public school system.
In keeping with this cooperative spirit, SpeechPathologyGraduatePrograms.org was created to support those entering the field of communicative sciences and disorders by providing a dedicated resource where they can learn about graduate program options, state licensing requirements, national certification, specialized areas of practice, earning potential, and more.
We worked closely with dedicated SLPs who consulted on this project to help provide the kind of insights that can only come from experienced practitioners working in schools and clinics:
---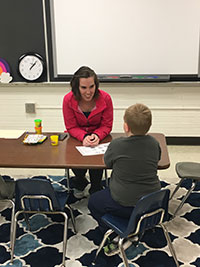 Lindsey Spilecki, CCC-SLP – Lindsey is a board certified speech language pathologist with the Hancock County Schools in West Virginia where she works with students with linguistic and swallowing disorders. She graduated with her Master's in Speech Pathology and Communication Disorders from California University of Pennsylvania before going on to earn the CCC-SLP and state licensure.
---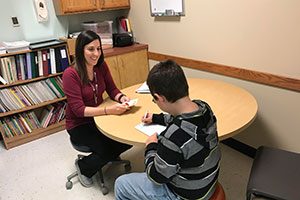 Briana Ralph, CCC-SLP – Briana is a clinically focused speech-language pathologist providing in-patient, outpatient, nursing home, and home health services for children and adults. She completed her bachelor's in SLP at West Liberty University and her Master's through West Virginia University before earning her CCC-SLP and launching her career in clinical practice.
---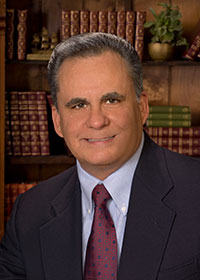 Dr. Paul T. Fogle – Dr. Fogle has been a Speech-Language Pathologist since 1971. He earned his BA and master's in Speech Pathology and Audiology at California State University and his PhD in Speech-Language Pathology at the University of Iowa. He is a retired professor emeritus who is also the author of a number of textbooks, including Foundations of Communication Sciences and Disorders, Counseling Skills for Speech-Language Pathologists and Audiologists, and Essentials of Communication Sciences and Disorders, 2nd Edition. Dr. Fogle also provides expert witness services in the area of forensic SLP for medical-legal cases.
---
Our team of writers helped make this website possible, bringing years of research and writing experience to this project: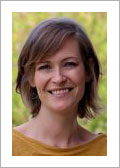 Amy Barnard – Amy has worked in the non-profit and copywriting arenas since 2001. Her personal experience as the mother of a child with swallowing disorders sparked a journey of research and learning about speech-language pathology. She has her BS in English-Writing.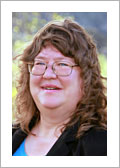 Dr. Helga George – Dr. George transitioned to her writing career after fulfilling her lifelong dream of performing research on plant defense chemicals. She earned a BS in Agriculture from Cornell University, an MS in Plant Pathology from the University of Massachusetts in Amherst, and a Ph.D. in Plant Pathology from Cornell University.  Dr. George also conducted postdoctoral research on the biochemistry of avocados at the University of California Santa Barbara where she obtained a USDA grant to fund her research.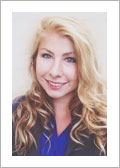 Hannah Coffman – Hannah is a writer and grant writing consultant with a BA in English. Over the past several years, she has developed online pieces and blogs on real estate, fundraising, and the non-profit sector. She has also researched and written on the topics of healthcare, education and technology.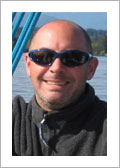 Scott Wilson – Scott Wilson is an author and information technology consultant based in the Pacific Northwest. He has a bachelor's degree in English from the University of Washington and has worked in the information technology industry for more than 20 years as a system administrator, IT manager, and consultant.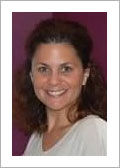 Rebecca Turley – Rebecca is an experienced writer and editor with a BA in Journalism and Communications. She has contributed to high-profile websites and blogs related to education and healthcare throughout her career.
A field that involves providing services for such a diverse range of patients across many specialized areas of practice deserves a resource that is just as comprehensive.
At SpeechPathologyGraduatePrograms.org you will find:
Step-by-step licensing guides for each state that explain the requirements and processes put in place by each of the 51 US licensing jurisdictions
Comprehensive state licensing overview that provides key details for each licensing jurisdiction at a glance
Student resources that explain education options and provide a comprehensive list of CAA-accredited programs organized by state
The latest salary information from the US Department of Labor showing the range of reported salaries for SLPs in each state broken down by city
Links to exam preparation materials and details on how to qualify for the Certificate of Clinical Competence in Speech-Language Pathology (CCC-SLP) through the American Speech and Hearing Association (ASHA)
Information on specialized areas of practice, practice settings and related specialty certification