The last couple years of your life have been all about classes, exams, clinical practicums, post-graduate fellowship experiences, and tunneling through a mountain of paperwork till you finally see the light of the career you always wanted peeking through.
Congrats! All your hard work is about to pay off.
The education and training you've received up to this point have prepared you to work as a speech-language pathologist in any setting and with any population; now it's time to wow your future employer with your knowledge, enthusiasm, and commitment to the profession and give them an interview that'll translate into the job offer you've been hoping for.
All you have to do now is prepare for those daunting SLP interview questions.
But fear not, we've got your back with a complete guide on how to prepare for the speech pathology interview questions you're sure to be asked.
How to Answer Speech Language Pathology Interview Questions Like a Pro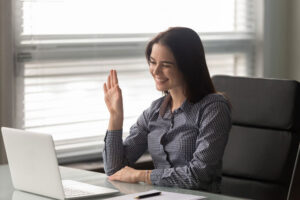 A good interview performance will mean giving your interviewer some real insight into who you are as an SLP. You won't be able to prepare for every scenario; after all, you don't know exactly what speech pathology interview questions you'll be asked. But you can and should consider – and be prepared to talk about – your personal and professional goals, how your SLP education and training has prepared you for your new role, and the ways in which you'd be an asset to their team.
Think of it this way – answering SLP interview questions is your opportunity to say all the things about yourself and what you can do for the employer that you might ordinarily be too humble to say.
SLP Interview Questions Aren't About Getting You to Recite Facts
In this field, it can become all too easy to spout off professional and technical terms in an attempt to impress your interviewer. But this isn't what they're looking for from you. Rote answers peppered with SLP terms won't do anything to tell your interviewer who you are and likely won't inspire them to hire you. Interviewing is all about telling the interviewer what you can bring to the position, not forcing answers you think they want to hear. This means personal stories, anecdotes that highlight the benefits of working as a SLP. What have your experiences taught you?
Answer SLP Interview Questions as If They Were Written for You Personally
Don't be intimidated because you don't have the experience other SLPs may already have. Your time spent in clinical practicums and your post-doc fellowship has provided you with plenty of interesting experiences that you can use during your interview.
Consider all the SLP interview questions that come your way as being custom made just for you – if you don't have years of experience to talk about, then orient your answers to be more about how you plan to make a difference in the field in the years ahead.
Remain Poised While Answering Your Speech Pathology Interview Questions
Most importantly, take a deep breath, smile, and avoid rambling on. Your answers should be clear, concise, and to the point. While you don't want to attempt to memorize answers to your SLP interview questions (that's a sure-fire way to come off as less than sincere during an interview), you'll want to be prepared with a general idea of what you'll say, so you won't be caught off guard and stumble your way through an answer.
It's a delicate balance of preparation and confidence that'll allow you to give an interview that you'll be proud of when you're walking out the door. And that means thinking about some of the questions you'll likely be asked.
The Top SLP Interview Questions You Can Expect to Be Asked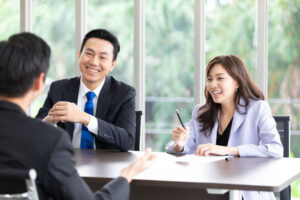 We can't prepare you for every question that might be thrown your way – "If you could choose one superpower, what would it be?"…"What color best describes you and why?"… "What's your spirit animal?" – these are just some of the doozies we've heard about from SLPs after interviewing. But there are some speech pathology interview questions that you can bet you'll be asked during the course of an interview.
We've assembled a list of these top SLP interview questions and what to consider when formulating your answers:
What's Your Work Philosophy?
You'll likely hear this question often, so be prepared to understand what they're looking for and how you'll answer it. Your philosophy should be your brand statement that includes the approaches you have adopted in your career in speech language pathology. It should answer the questions: Who are you? How do you apply your philosophy to your work?
It may be a rather intimidating task to define who you are, so it's best to first think about your professional and personal strengths and how they align with your goals. Remember that your philosophy should always guide your work. Are you resourceful, creative? Are you a hard worker, a team player? Are you adaptable to change, do you thrive in challenging situations, are you motivated? Your value system is multifaceted, so your philosophy should be, too. But keep it honest and real and be prepared to back it up with real-life examples.
What assistive technology are you familiar with?
More and more you'll find interviewers drilling down to the tech questions, so be prepared to talk about your experiences with implementing and using assistive devices with your clients. And, of course, be prepared to provide the interviewer with a good example or two of how you've used assistive technology.
For example, "I have become very well-versed with using speech-generating devices after working with stroke patients in an assisted living facility. I've had really great success with both handheld AAC devices and iPad apps like TouchChat HD and Predictable."
Do you work well with others?
Collaboration is a big part of being an SLP and it's common to spend your day working alongside occupational therapists, physical therapists, nurses, social workers, and more. This means you'll likely be asked about your experiences working with professionals from other disciplines.
You may share a positive experience that highlights how you actively contributed to the success of a clinical care or school team, or a challenging working environment that required you to problem-solve and work toward a solution that improved communication and collaboration with others.
Don't be afraid to provide an example of a struggle you had working with others, provided you can also detail how you solved the problem and/or learned from your mistakes.
What was your most challenging case/patient and why?
With HIPAA in mind, always be prepared to provide an interviewer with a challenging case and how you managed it, which will show the interviewer that you have the problem-solving skills to handle difficult issues in the workplace.
Describe the circumstances surrounding the issue, what went wrong (how it happened), the action you took to remedy it, and the results of your actions. Take time to highlight what you accomplished and how it helped you achieve your SLP goals. Don't be afraid to give yourself a much-deserved pat on the back. For example, "Because of my perseverance, I was able to redirect the child and introduce an exercise he really responded to."
Most importantly, this is your chance to talk about what you learned from this experience. Insight is a big part of growing in this profession, so it's always a good idea to speak to the skills and techniques you used to manage the case and how you used this challenging experience to grow professionally.
What quantitative and qualitative assessments do you use during an evaluation?
A comprehensive and practical SLP evaluation uses a blend of qualitative and quantitative assessments, so when an interviewer asks you to detail an evaluation, make sure you're ready to highlight both informal and formal assessments.
Be ready to talk about the standardized assessments you're familiar with (e.g., CELF-5, Bayley-III, PLS-5 English, etc.), the techniques you've used (e.g., ethnographic interviewing, naturalistic observation, language sampling, etc.), and of course the ones you've had the most success with. But also give equal attention to the informal observations you employ and the tools you like to use (toys, board games, etc.) to elicit those important spontaneous speech and language responses.
Being Prepared for Your Interview Also Means Having SLP Questions to Ask the Employer
At some point in the interview, you'll have the opportunity to turn things around a bit. Having a few good SLP questions to ask the employer will show that you're inquisitive, curious and that you genuinely care about the business and see yourself being part of it.
Consider your questions carefully and have them ready to go when the time comes. Don't waste this valuable time asking questions that can be easily answered by a quick search of their website (For example, what type of patients do you accept and what level of care do you provide?), and don't ask about SLP salary, benefits, paid time off, and the like. These are questions to find out beforehand or clarify once the job's been offered to you.
Before walking into the interview room, make it your mission to have a clear understanding of the position and do your homework so you know about the organization and the position you're applying for.
Most importantly, don't ask questions for the sake of asking questions. You'll bore your interviewer and may even turn them off, especially if you start asking questions that you should already know. If you have some thoughtful questions to be asked, now is the time. But continuing an interview for another ten minutes by asking questions without much merit won't help your cause and certainly won't endear you to your interviewer.
With this in mind, some of the questions you may consider include:
What are your expectations for productivity? How do you measure job performance?
Are there continuing education opportunities available on-site?
Are there departmental resources available that I can use for treatment and evaluations?
Can you tell me a little more about the team I'll be working with?
What traits does someone in this role need to be successful?
After the interview you're ready to start your career as a speech language pathologist! Checkout these 4 tips from experienced SLPs to prepare you.
<!- mfunc feat_school ->
<!- /mfunc feat_school ->