Do speech pathologists need a master's degree? You bet! The master's in speech pathology remains the gateway degree to a career as a speech-language pathologist (SLP). From state licensure to national certification, a master's degree in speech-language pathology or a similar master's in communication sciences and disorders meets the base education requirements.
With a master's degree in speech-language pathology under your belt, you'll qualify to complete a clinical fellowship (usually of at least 1,260 hours), take the Praxis II: Subject Assessment in Speech-Language Pathology, and earn state licensure to practice. You'll also be able to earn the American Speech-Language-Hearing Association's (ASHA) Certificate of Clinical Competence in Speech-Language Pathology (CCC-SLP) – the national credential that most states now recognize as a pathway to licensure.
Maybe the better question is, what can't you do with a master's in SLP.
Whether it's an MA, MS, or MEd and whether its program title is communication sciences and disorders, speech-language pathology, or some similar variation of the two, you'll want to make sure the master's program you choose is accredited by the one and only accrediting organization in the field: the Council on Academic Accreditation in Audiology and Speech-Language Pathology (CAA).
To make your life easier, many of these programs are offered in a part-time or evening format and many are delivered either partially or fully online.
Earn this degree and you'll be well on your way to an exciting and fulfilling career as a speech-language pathologist, where professional opportunities are plentiful and the many options to specialize and focus on a specific demographic or setting ensure you'll find a niche that suits your interests.
A master's degree in speech pathology doesn't just get you that coveted state license you need to practice; it prepares you to work in any setting in which speech-language pathology is offered.
What can you do with a master's in speech pathology? The choice is yours! Education, home-based healthcare, hospitals, residential healthcare, and more… there are plenty of options when it comes time to get a career in speech-language pathology off the ground:
1 – A Master's in Speech-Language Pathology Gives You Access to Careers in Education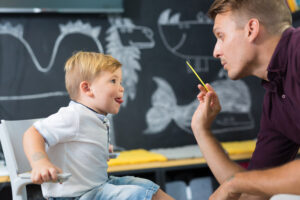 Speech-language pathologists are staples in the PreK-12 educational setting. According to ASHA, 53% of all SLP careers are in education. From preschool to elementary to junior high school to high school, SLPs lend their talents to students at all levels and with a range of communication, language, articulation, swallowing, and voice disorders.
SLPs work with students whose language and communication disorders impact their learning and affect their personal, academic, and emotional/social growth. While their services are largely focused on students with disabilities, they may also provide SLP services to students who struggle in the school setting to ensure literacy achievement.
SLPs in an educational setting have a wide range of responsibilities that are focused on diagnosis, prevention, assessment, and intervention. SLPs also assess students to identify whether other factors beyond a language, speech, or communication disorder (e.g., lack of adequate instruction, cultural/linguistic differences, and socioeconomic factors) are affecting their ability to learn.
In addition to providing assessment and SLP therapy services, speech-language pathologists collaborate with other school professionals (teachers, reading specialists, special education teachers, guidance counselors, occupational therapists, physical therapists, school psychologists, audiologists, and/or social workers) to design programs, ensure compliance of those programs, and collect data regarding student progress. Speech-language therapy is part of an individualized education plan (IEP) for students with disabilities; therefore, SLPs work alongside the educational team to create and adhere to a student's IEP, ensuring that the student is receiving the proper services in the least restrictive environment.
As expected, SLPs must also ensure they adhere to federal and state mandates. Medicaid billing, report writing, and therapy documentation are all a necessary part of working as a school-based SLP.
2 – Speech-Language Pathologists Working in Hospitals Hold Master's Degrees
Speech-language pathologists are found in nearly any type of inpatient healthcare setting, including rehabilitation, acute care, and psychiatric hospitals and may treat different patient populations (e.g., veterans' hospitals, children's hospitals). SLP services in these settings may be provided on an in-patient or outpatient basis.
In hospital settings, SLPs work as part of an interprofessional treatment team that includes physicians, nurses, dieticians, case managers, social workers, and more. Job responsibilities for these pros include diagnosing and treating any number of language, swallowing, and/or cognitive-communication disorders.
Hospital-based SLPs provide assessment and treatment for patients with issues resulting from medical complications, strokes, head injuries, and respiratory issues. According to ASHA, the majority of patients (35%) in the hospital setting are treated for speech-language disorders due to strokes. Therefore, SLPs in the hospital setting are well-versed in dysphagia management (swallowing difficulties) and interpreting the results of videofluoroscopic exams.
Because acute care patients are treated and released usually within two weeks, the treatment plan is typically continued in a rehab facility, skilled nursing facility, home, or other setting after discharge. Caseloads for hospital-based SLPs can range significantly from one day to the next, depending on admission rates. Collaboration and consultation with many other members of a patient's care team are commonplace in in-patient settings.
When they're not seeing patients, hospital SLPs spend much of their day documenting and writing reports related to patient care.
3 – A Master's in SLP Can Lead to a Career in Residential Healthcare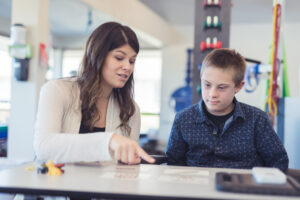 Speech-language pathologists may work exclusively in skilled nursing facilities and assisted living facilities, providing both short- and long-term SLP services to residents. Speech pathologists in these settings usually treat patients with the same disorders as those in hospital-based settings, with the care plan largely focused on achieving functional skills to gain or regain independence.
Because physical, emotional, and mental health can and do change quickly among patients of skilled nursing facilities, the workload of SLPs in these settings often fluctuates. Similar to patients in hospital settings, residents of residential care facilities are most often treated for stroke-related SLP disorders, according to ASHA, followed by mental disorders and respiratory disorders.
SLPs provide assessment and treatment to patients in nursing homes and other residential healthcare settings based on Medicare restrictions and allowances. The number of minutes allotted to speech services vary according to the patient's Medicare coverage and payment guidelines; therefore, SLPs must provide concise documentation to satisfy Medicare requirements.
4 – A Master's Degree in Speech Pathology Can Also Lead to a Career in Non-Residential Healthcare
SLPs often treat patients in outpatient settings, providing assessment and therapy to individuals in speech and hearing clinics, public health agencies, and doctors' offices. Home-based services are also a big part of non-residential healthcare services. SLPs in these settings may work for state-based early intervention programs and home health agencies, although a growing number of providers work independently or as part of an SLP practice.
Work in physician offices and speech and hearing clinics tends to be more reliable than in other settings, making it a popular choice among some SLPs. Regular office hours and set appointment times provide a predictable routine for these SLPs.
Home-based care has become a popular pursuit among many SLPs. While travel time and the logistics involved with providing care in several homes on any given day are challenging aspects of home-based SLP therapy, many SLPs enjoy the flexibility and autonomy that home-based work provides.
5 – A Speech-Language Pathology Career in Private Practice Starts with a Master's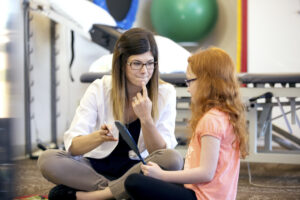 According to ASHA, about 19% of SLPs work in a private practice setting.
As an independent SLP, you'll have more control over everything from the patients you treat to your caseloads to your daily schedule. As your own boss, you'll be responsible for the nuts and bolts of your practice (marketing, billing, Medicare documentation, etc.), and you'll need to ensure you're practicing under local and state guidelines. Still, many SLPs say that the freedom, flexibility, and increased earning potential that come with being their own boss is well worth the responsibilities of running a business.
You may provide your services in a clinic setting, you may offer home-based SLP services, or you may specialize in corporate speech-language pathology services. Corporate speech-language pathology is a unique practice area that allows you to provide services to a company or its customers and/or serve as a consultant. Your work may focus on training in the area of interviewing skills, presentation skills, telephone skills, business communication etiquette, accent modification, cross-cultural communication, and more.
6 – Even a Speech-Language Pathology Career in Telepractice Requires a Master's
Telepractice has become another big player in SLP therapy, largely due to the COVID pandemic. While getting comfortable with providing distance-based care to your clients certainly has its challenges, telepractice has allowed many SLPs to work from home and maintain a more flexible schedule. More importantly, it has allowed clients to continue to receive valuable SLP therapy despite COVID shutdowns and restrictions.
It's now become commonplace for SLPs to provide services via telepractice to clients through rehab hospitals, community health centers, outpatient clinics, client homes, corporate centers, childcare centers, and more.
You'll need to get comfortable working with technology and you'll need to ensure you're meeting all national, state, and professional regulations and policies when providing SLP therapy through telepractice. You'll find that each state has explicit rules regarding telepractice, so you'll need to ensure you're practicing within state guidelines.
EXPLORE SLP MASTER'S PROGRAMS.
<!- mfunc feat_school ->
Understand how to become a professional, certified speech pathologist by learning more about the following online programs. Through these Master's degree tracks, you'll be able to gain the knowledge base and credentials to deliver proactive, direct care. Discover more about your future in speech pathology today.
<!- /mfunc feat_school ->