Communication Disorders Major – Answering the Question: What Is a Degree in Communication Disorders All About?
A communication disorders degree program teaches students a basic understanding of speech, language, and hearing processes. Graduates with a degree in communication disorders know how to identify communication disorders in pediatric, elderly, and adult patients. The communication disorders the degree prepares practitioners to address may be congenital or as a result of trauma. You can expect the course of study in these programs to teach you how to think critically about complex issues affecting human communication.
Exactly what is an SLP? A speech-language pathologist is a clinician specializing in the diagnosis and treatment of speech and language disorders, including feeding and swallowing disorders.
There are many types of communication disorders that affect different age groups for various reasons. Some may be caused by muscular disorders, others by injuries, and others by developmental disorders. Communication disorders often affect children and older people, so many communication disorders professionals specialize in either pediatric populations or the elderly.
Some communication disorder examples include:
Aphasia (the loss of the ability to produce and comprehend language)
Apraxia (the loss of the ability to say what you are trying to say)
Autism spectrum disorder-related issues
Dysarthria (where muscle problems make it difficult to pronounce words)
Lisping
Stuttering
Muteness
Speech delays
Phonological disorders
Learning disabilities such as dyslexia and dyscalculia
Cluttering (characterized by an abnormal speech delivery rate)
These and so many more can interfere with a person's ability to communicate, and the first step to being able to solve these problems is to pursue a degree in communication sciences and disorders. What type of degree is communication sciences and disorders? A degree in communication sciences and disorders (CSD) is almost always a bachelor's or master's degree focusing on the basics of human communication, including the biological, physical, social, and linguistic aspects. With this scientific basis, students are able to better understand exactly how and why communication may be impaired.
Is communicative disorders a BA or BS? Undergraduate students looking for bachelor's in communication sciences and disorders can choose which program is best for them. Some colleges and universities offer bachelor of arts programs, though most of these programs are structured as a bachelor of science. If a communication disorders student plans to go into the medical field, a BS might be the better option since it will include more courses in the sciences, while a student who is more interested in liberal arts electives and expects to enter a less scientific field would be well-served with a BA program. Either a BA or a BS will allow a student to apply to graduate programs.
What Can You Do with a Communication Disorders Degree?
Of course, with a master's in communication sciences and disorders, you can become a fully certified speech-language pathologist (CCC-SLP) with a state license to practice independently in any setting, from hospitals and out-patient clinics to assisted living facilities and schools, though in some cases some additional credentials through the state board of education may be required to work in the school system.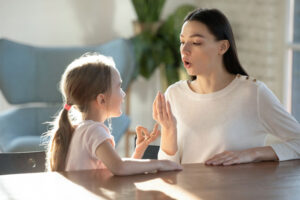 A bachelor's degree in communication disorders can actually be a foundational degree for a lot of careers, allowing you to earn a master's in those fields with a unique background that could still be relevant to working as a therapist, special ed teacher, social worker, educational consultant, school administrator, occupational therapist, behavior analyst, among plenty other therapy and healthcare roles.
What jobs can you get with a bachelor's in communication sciences and disorders? In some cases, CSD degree holders can go into allied health professions, education, human services, or even fields like media, sales, public relations, and government, among many others.
But in a lot of cases, what you can do with a CSD comes down to where you do that work, whether in community clinics with a social services agency or in a clinic as an enterprising private practice owner.
Research
Communication disorder research specialists help isolate everything from causal factors for communication and swallowing disorders to the treatment methods most effective for different populations of people dealing with speech and swallowing disorders, young and old. CSD graduates who choose to further their study with doctoral degrees will be contributing to a better understanding of communication disorders.
Audiology
An audiologist is trained in hearing disorders, linked in many ways to the work SLPs do since speech disorders are very often linked to hearing disorders. After receiving a communication disorders bachelor's degree, students may go on to master's program to become audiologists.
Leadership
Not every professional in speech-language pathology needs to become a therapist. Clinical supervisors and non-profit program directors are also needed to ensure practices are well-managed, and on the non-profit front that services get to where they are needed. Plenty of leadership positions in the field begin with a master's degree in communication disorders.
Education
Jobs in education for people who hold communication disorder degrees are ample. SLPs frequently are brought into schools to support IEP (Individualized Education Plans) for special education students, sometimes hired by a district and moving between schools. The skills and educational foundation a CSD provides can also be foundational to further studies, with some even going on to careers as school counselors or special education teachers.
Human Services
Other than the many roles for social workers that generally require a Master of Social Work (MSW) and a state license – from family services to drug addiction specialists – there are other roles in human services for any kind of therapist with the compassion to lend their expertise to this field. SLPs are no exception. These careers can take you into schools, nursing homes, or community clinics.
Or Maybe Something Entirely Different
Not all graduates of communication disorders degree programs actually go into the field, and they don't need to. Being taught the systems-based thinking that a CSD degree entails and completing the rigorous and complex coursework sets a graduate up for success in whatever industry they may choose.
The Different Types of Communication Disorders Degrees
A degree in communication disorders may be called by many different names. Programs in speech and hearing sciences, speech-language pathology and audiology are all related to communication disorders, as well as the straightforward communication disorders degree itself.
Students have the option of what exactly they want to study and how far they want to go. Some may be content with an introduction to the field bachelor's degree, others are looking for the master's required to earn the CCC-SLP, and some may never end their study of communication disorders and work in doctoral-level research and academia.
Bachelor's Degree Programs in Communication Sciences and Disorders
Students who seek degrees in communication disorders will enter bachelor's programs, but the types and names of those programs may vary. Whether deciding to go with a B.S. in communication sciences and disorders, a B.A. in communication disorders, or a bachelor of science in education (B.S.E.) specializing in speech, all communication disorders programs prepare students for a variety of careers in the field. While each curriculum is fine-tuned to the type of degree and program description, students will usually cover the diagnosis and treatment of communication disorders as well as a foundational general education requirement.
After receiving a bachelor's degree in communication disorders, graduates can apply to master's and then even doctorate programs in the field or begin work in one of the many jobs suitable for CSD degree holders.
While these programs are impressive, countless other colleges in the country offer rigorous and competitive communication disorders degree programs to get graduates started on a career path in the field.
Master's Degree Programs in Communication Sciences and Disorders
Communication and sciences disorder master's students gain the knowledge and skills necessary to evaluate, treat, and advocate for individuals with any number of communication and swallowing disorders. CAA-accredited master's degrees are designed to prepare students to gain valuable, hands-on experience, collaborate with leaders in the field, and integrate research principles in evidence-based clinical practice.
There are more than 250 of these programs in the U.S., going by
titles, such as:
MS in Communicative Sciences and Disorders
MS Speech-Language Pathology
MS Communication Sciences and Disorders, Specialization in Speech-Language Pathology
MA Speech-Language Pathology
Depending on the college or university, master's degrees in speech-language pathology may be campus-based or distance (online)-based.
The Many Benefits of a Communication Sciences & Disorders Degree
Graduates of CSD programs are in a prime position to succeed in their professions and make a true difference in the lives of their clients. Communication is fundamental to the human experience and having the ability to help people overcome issues impairing and preventing effective communication is beyond rewarding, to say the least.
Degrees in communication sciences and disorders allow students to develop skills that benefit them in every aspect of life as well as in careers in communication disorders. The following are just some of these benefits.
Strengthened Core Competence: Graduates develop a strong understanding of the complex science of human communication, incorporating lessons in psychology, cognitive science, biology, and language science into their core competencies.
Critical-Thinking and Decision-Making Skills: CSD students learn sharp critical thinking skills and improve their written and oral communication abilities, as well as improve their evidence-based decision-making skills.
Gaining Perspective: Communication disorders degrees encourage students to broaden their perspectives, exploring issues such as professional ethics, cultural competence, and diversity interactions.
Making an Impact: Students earning communication disorders degrees have the chance to make huge impacts with service learning, research, and community engagement opportunities.
Of course, there are also the financial benefits of the degree. So, how much do communication disorders majors make? That depends on the job. An SLP earns an average of $80,480 a year, with the top-earners in the field in the top 10% making more than $122,790, according to the U.S. Bureau of Labor Statistics. Depending on the profession, communication disorders graduates can make a nice living while changing lives for the better.
Is Communication Disorders a Hard Major?
Choosing a communication disorders major will not be without its challenges, but students who are hardworking and eager to learn the science and therapy behind understanding and treating these kinds of disorders will find all the motivation they need courtesy of their own intellectual curiosity. Going all the way by earning a master's degree to meet the requirements for the CCC-SLP and state licensure is no small feat. It takes years of diligent study just to graduate, and that's even before you get started on your clinical experience and preparing to pass the national exam.
Master's degrees in communication sciences and disorders offer a research-oriented and clinically based curriculum grounded in the psychological, linguistic, physiological, and physical science of communication sciences and disorders.
Throughout the program, students gain an understanding of the principles of biological sciences, physical sciences, mathematics, and the social and behavioral sciences, as well as methods of prevention, assessment, and intervention for people with communication and swallowing disorders.
The qualities that bring someone to the field of communication disorders are the same qualities that will successfully get them through the degree program: Patience, integrity, motivation, sensitivity, cooperation, attention to detail, and so much more.
Between choosing communication disorders as a major and graduating, students will have the opportunity to grow, make an impact, and prepare for rewarding and in-demand careers.
<!- mfunc feat_school ->
<!- /mfunc feat_school ->