Anybody working as a speech-language pathologist knows how diverse and broad the field is in terms of the kinds of clients they serve, the disorders they treat, and in the different ways they can specialize.
Some types of communication disorders affect children and others are more common in elderly adults. Some involve language fluency and articulation, while others aren't directly related to speech at all, and instead have to do with swallowing and feeding. Of course, speech-language pathologist generally cover the full spectrum of disorders, but that doesn't mean they can't also specialize in certain areas. To hone those specialized skills in the most effective way and to signal that expertise to employers, clients and colleagues, it's a wise idea to know all about SLP additional certifications.
What Certifications Do Speech Pathologists Need?
The industry standard for professional certification among SLPs is the CCC-SLP (Certificate of Clinical Competence in Speech-Language Pathology) from the American Speech-Language Hearing Association (ASHA). Most states either require the CCC-SLP, or accept it as one way to meet licensing requirements, which has made it sort of a de facto requirement. In some cases, though, a speech pathologist may not technically need any certifications at all, though they will virtually always need a state license, which they may be able to qualify for on the basis of education and experience only. In any situation, even when not explicitly required, certifications are highly beneficial to hone your skills, signal your expertise and advance your career.
The Most Recognized Speech-Language Pathology Certification
First thing's first, even before completing a master's degree in speech-language pathology, aspiring SLPs typically have their sights set on earning the CCC-SLP. This is the king of all certifications for an SLP, and required for licensure in many states, but it's far from the only one available.
Before an SLP can even take the CCC exam, they must earn their graduate degree, clock their 400 clinical hours, pass the Praxis SLP Exam, and complete a clinical fellowship, but what happens after that? Is that the end of the line or are there opportunities for advancement in speech pathology? There are absolutely paths that an SLP can take to further their careers and become experts in specific areas of the field.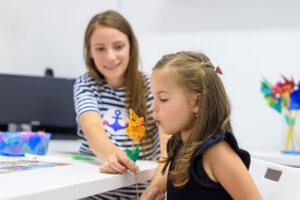 What can a SLP specialize in? So much. With the types of treatments available and types of patients to focus attention on, there are specialties in child language, fluency, and swallowing, along with techniques involving voice volume, non-verbal communication, muscular therapy for language development, and more. Speech-language pathologist credentials span a wide range of specialties, areas of interest, and patient populations. If an SLP has a passion for working with children, they can become certified in child language disorders. If someone had a beloved grandfather with Parkinson's disease and is dedicated to helping those who suffer from it, there's a certification for that too.
While not all speech pathologists become certified, many states and employers do require a minimum of a CCC, and many additional certifications are also dependent on first receiving a CCC. But when it comes to pulling ahead of the crowd and strengthening expertise, the more SLP credentials the better. Most clients and employers do value certification, and continuing education in the field will keep SLPs at the top of their game as speech-language pathology advances and adapts.
Additional SLP Certifications to Further SLP Careers
Specialty certifications for speech-language pathologists run the gamut of disorders and patient types. Taking SLP certification courses that allow you to truly focus on very specific issues lets SLPs become more valuable to the people they're treating.
Speech Therapy Specialties that Build on ASHA's CCC-SLP
Speech-language pathologists can choose to go a fairly straightforward route and become a board-certified specialist in speech pathology through ASHA. The BCS (Board Certified Specialist) SLP in one of the areas listed below is an option only after first earning ASHA's CCC-SLP and working in the field for a few years.
SLPs can become specialists with the following certifications:
Board Certified Specialist in Swallowing and Swallowing Disorders (BCS-S) to be an expert in dysphagia.
Board Certified Specialist in Child Language (BCS-CL) to be an expert in working with children and adolescents up to 21 years old.
Board Certified Specialist in Fluency (BCS-F) to be an expert in disorders such as stammering and cluttering.
What Else Can an SLP Specialize In?
A speech-language pathologist doesn't necessarily need to focus on SLP board certified specialist concentrations. SLPs can specialize in very specific treatment techniques or in areas that may not be quite so obvious, but that are still very relevant to the field.
Certification in Augmentative and Alternative Communication
Available Through AAC Institute
A speech-language pathologist may want to become an augmentative communication specialist if their patients could benefit from non-verbal communication systems. Augmentative and alternative communication (AAC) uses sign language, devices, and computer programs to help people with severe speech-language impairments.
Good for SLPs working with:
Autism spectrum disorder
Developmental disabilities
Apraxia of speech
Stroke patients
Traumatic brain injuries
Neurodegenerative diseases
Certification for Motor Skills for Language Development
Available Through the Prompt Institute
Speech pathologists who specialize in a type of intervention used for speech production disorders can get certified in PROMPTS for Restructuring Oral Muscular Phonetic Targets, a type of treatment used for language formation, motor control, cognitive delays, phonological learning disorders, or auditory processing disorders. PROMPT is focused on motor development and approaches treatment from physical-sensory, social-emotional, and cognitive-linguistic perspectives.
Good for SLPs working with:
Phonological disorders
Cognitive delays
Auditory processing disorders
Language formation
Stuttering
Syntax
To receive PROMPT training, an SLP must attend introductory and intervention workshops, and complete practicum and self-study projects.
Certification for Recalibrating Loudness
Available Through LSVT Global
People with neurological conditions such as progressive supranuclear palsy or Parkinson's disease are often treated with the use of Lee Silverman Voice Treatment, or LVST LOUD. This treatment focuses on helping people adjust the volume of their voices, which can help the patient articulate better, swallow differently, and improve their facial expressions while communicating.
Good for SLPs working with:
Parkinson's disease
Progressive supranuclear palsy
Other neurological conditions
SLPs who feel that this type of treatment will benefit their patients can get certified in LVST by taking courses that teach the principles, techniques, and expected outcomes of LVST.
Picture Exchange Communication System for Treating Patients with Cognitive and Physical Disorders
Available through PEC USA
Speech pathologists with clients who face cognitive, communication, and physical challenges such as Down syndrome and autism spectrum disorder may find it beneficial to include Picture Exchange Communication System (PECS) in their toolkits. PECS uses prompting and reinforcement strategies similar to those in applied behavior analysis that use pictures rather that words. This teaches patients how to communicate with picture discrimination, language expansion, and commenting.
Good for SLPs working with:
Autism spectrum disorder
Aphasia
Down syndrome
SLPs can reach three levels of PECS certification, Level 1 Certified Implementer, Level 2 Certified Implementer, and Certified Case Manager.
Certifications in Applied Behavior Analysis
Available Through the Behavior Analyst Certification Board
Many speech pathologists work with patients who would benefit from ABA (applied behavioral analysis) therapy since their communication disorders and behavioral issues may be interconnected. ABA interventions can improve communication, peer interactions, and reading comprehension, all of which fall in the domain of an SLP. An SLP who works with issues related to autism spectrum disorder may decide that becoming certified in behavioral analysis will enhance their practice and best serve their patients.
To get certified, an SLP can pursue the Board Certified Behavior Analyst (BCBA) credential from the Behavior Analyst Certification Board (BACB).
Earning BCBA certification requires a master's in behavior analysis, or in psychology or education with a focus in ABA. Many get into the field with stand-alone Verified Course Sequence (VCS) which are offered as certificates that can be earned on top of an existing master's. But since the master's still has to be in one of the areas mentioned above, it presents a challenge to SLPs who hold degrees in communication science and disorders. Still, it's not an impossible challenge, and many have done it.
BCBA certification would be particularly useful to SLPs working with:
Autism spectrum disorder
ABA therapist teammates
Whatever a speech-language pathologist decides to specialize in, the patients they end up serving will be better off for it. Certifications could lead to more diverse career opportunities, better pay, and job satisfaction. In any case, they will enhance an SLP's skills and knowledge in valuable ways.
<!- mfunc feat_school ->
Understand how to become a professional, certified speech pathologist by learning more about the following online programs. Through these Master's degree tracks, you'll be able to gain the knowledge base and credentials to deliver proactive, direct care. Discover more about your future in speech pathology today.
<!- /mfunc feat_school ->