The delivery of speech and language therapy services in the home has increased in recent years, thanks to a steep rise in both the number of senior and pediatric patients with speech, language, voice and swallowing disorders. A growing Baby Boomer population and rising numbers of children diagnosed with developmental disorders like autism have naturally translated into a greater demand for SLP services.
And in 2020, the demand for speech-language services in the home reached a fevered pitch due to COVID restrictions and lockdowns. SLP services in the home became a favored method of delivery for clients and their families seeking to avoid public spaces and busy clinics.
Today, you'll find that taking your SLP services straight to where your clients spend most of their time is a fantastic way to provide personalized speech and language therapy services. Home therapy provides valuable, personalized interactions that just can't be duplicated in another setting.
You may be just embarking upon your career in speech language pathology or you may have been working in the clinical or school environment for some time. Either way, focusing or refocusing your career on home health speech therapy services may be the perfect career choice for you.
What is Home Health Speech Therapy?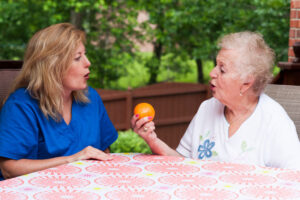 Speech-language therapy is a big player in the home health model of care. From difficulty swallowing to challenges with memory and disorientation to an inability to effectively talk or communicate, speech-language therapy in the home benefits patients with all types of speech, language, communication, cognitive, and swallowing disorders.
The home (keep in mind that "home" may mean assisted living facilities, nursing homes, and memory care facilities) provides the ideal setting because it allows the SLP to address the functional needs of their patients within their own environment.
According to the American Speech-Language-Hearing Association (ASHA), the majority of home care clients (about 70%) are 70 years and older, and most are recovering from a stroke (63%). Other common medical diagnoses that bring SLPs to the home include disorders of the nervous system (e.g., Alzheimer's, epilepsy, Parkinson's, multiple sclerosis, cerebral palsy), respiratory diseases, and injuries.
ASHA also reveals that in-home SLPs largely focus on patients with swallowing disorders (54%), followed by spoken language expression difficulties (37%), motor speech problems (29%), and spoken language comprehension conditions (26%).
In-home services provided by speech language pathologists last about a month for most patients and are focused on addressing functional needs – often those aimed at regaining the skills needed to be independent.
As a home health SLP, the services you provide will be based on a physician's orders and limited according to what Medicare, Medicaid, and/or private insurance are willing to pay. (Today, Medicare Part A covers 100 percent of eligible home healthcare services.) In some cases, clients may choose to privately pay for SLP services that aren't covered by their health insurance. Home-based SLP services may start upon a patient's discharge from a hospital or inpatient rehabilitation facility, while some physicians refer patients directly.
While you'll enjoy a nice degree of autonomy as an in-home speech pathologist, you'll still collaborate with other pros as part of a patient's overall treatment plan. Home-based SLPs often work with registered dieticians (who oversee changes to a patient's diet), medical social workers (who coordinate the delivery of home medical equipment), physical therapists, occupational therapists, homecare nurses, and more.
You'll be responsible for providing detailed notes and documentation regarding your home therapy visits. Most in-home SLPs work for home health agencies that utilize specialized software for electronic charting. Everything from patient status to therapy goals is detailed and memorialized here. You'll also communicate with the other members of the patient's care team electronically.
The Many Benefits of Working as a Home Health SLP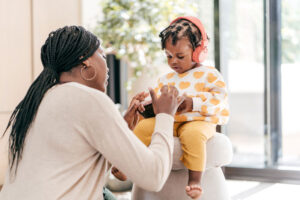 Home healthcare services like speech-language therapy have provided patients with the care they otherwise wouldn't receive after being discharged from an acute care facility due to an inability to travel to outpatient settings.
As a home health SLP, the patient's home is your workspace. Performing activities that they find meaningful and practical to their everyday lives in the comfort of their home environment inspires and motivates many patients to work hard toward their goals, making this setting highly rewarding for SLPs.
Home Health Speech Therapy Allows for Maximum Flexibility
Flexibility, autonomy, and the chance to provide the best patient-centered care are some of the other top reasons why many SLPs enjoy working in home healthcare.
For starters, you'll be able to schedule your daily appointments around your personal commitments. While you'll likely need to meet productivity requirements, your schedule is largely left up to you.
In this setting, you'll largely be in charge of your career, and you'll work independently, which is a big draw for many SLPs. Although you'll collaborate with other members of the care team, communication is often accomplished through email or Skype meetings.
How Much Do Home Health Speech Pathologists Make?
According to ASHA, the home care speech language pathologist salary is among the highest in the field. The US Bureau of Labor Statistics backs this up with 2020 data showing the highest salaries in the field going to SLPs working in residential settings. That year, the median salary for SLPs who specialized in providing residential care was more than $95,000.
Tailoring the Treatment in the Home, Where Clients Do Most of Their Communicating
Finally, many home care SLPs enjoy the opportunity to implement a plan of therapy that's best suited to their patients' needs and best align with the unique conditions of their home environments. Home-based care often elicits better results and allows patients to demonstrate more positive responses to care.
The Challenges that Come with Providing Home Health Speech Therapy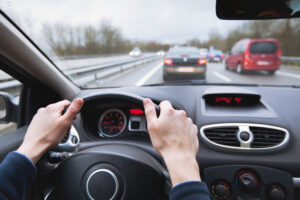 Drive time and scheduling difficulties are two of the challenges associated with home-based SLP therapy. If spending copious amounts of time behind the wheel immediately induces feelings of stress, home-based care may not be the best fit for you. But for many in-home SLPs, the time spent between clients allows them to relax and prepare for their next appointment.
Changes to patient schedules may make you want to pull your hair out as a home care SLP, so if you're looking for predictability, home-based care may not be for you.
If you're wondering whether a home health SLP job is a good fit for you, consider trying this setting on for size by finding an agency that will allow you to first work on a PRN basis.
What Does a Home Health SLP Do? – A Day in the Life of an In-Home Speech Pathologist
What does a home health SLP do? Well, within the context of a patient's home environment, home health SLPs create treatment plans that are specific to a patient's immediate needs. Your work will focus on helping your patients complete daily tasks like eating, performing basic household tasks that involve communicating with family members, and using the phone. It's all done with the ultimate goal of helping clients achieve independence.
Doing Your Office Work Remotely
In-home speech pathologists use their vehicles as mobile offices, documenting and updating client files and insurance forms throughout the day, usually between visits. An iPad or other handheld device will allow you to document progress on-site, and even do much of your "office work" related to billing and insurance reimbursement right in the field. You'll check in and chart your day's schedule remotely; there's little need to show up at an office every day. All information about the patient, such as insurance paperwork, doctors' orders, and dietary restrictions can be accessed through most agency software systems these days.
Taking Care of Clients in Your Assigned Territory
Depending on the agency you work for, you may use your own personal vehicle (you'll document mileage for reimbursement) or an agency vehicle to provide your home SLP services. Your caseload will largely depend on the area in which you're treating patients. If your territory is largely urban, you'll have the opportunity to treat more patients because of reduced driving time. On the other hand, working in more urban or rural areas may limit the number of patients you see on any given day due to the increased driving time.
SLP Services Routinely Performed as Part of Home Health Speech Therapy
Just some of the duties of a home care SLP include:
Conducting oral, pharyngeal, and motor breathing exercises
Helping patients communicate both verbally and nonverbally
Educating family members
Conducting structured memory and problem-solving tasks
A typical day for a home care speech pathologist may include helping a non-verbal stroke survivor get familiar with text-to-speech technology… assessing a patient's swallowing by trialing liquids of different consistencies…and teaching a patient's husband how to puree foods properly so she can safely eat.
Exercises You Can Guide Clients Through From Anywhere
Your options for beneficial SLP exercises are plentiful in the home environment, thanks to a household full of items that are familiar and meaningful to your patients. Just some of the ways you can use items in and around the home to create interesting SLP exercises include:
Activities aimed at improving expressive language and speech expression:
Naming objects in the room or items in the pantry
Naming people in photo albums and picture frames
Reading the newspaper aloud
Creating a grocery list
Activities aimed at strengthening receptive language skills:
Following verbal instructions associated with preparing lunch or using a remote control
Following multi-step directions to accomplish goals like sorting clothes or grooming
Activities aimed at problem-solving include:
How to contact loved ones or dial 9-1-1 in the case of an emergency
How to lock and unlock doors
How to decide which clothing to wear
Memory tasks
Creating a shopping list
Naming members of the family
Matching and sorting similar items like socks and utensils
Recalling items in the bathroom medicine cabinet
Interested in being a home health SLP? Start your journey by finding an SLP master's program!

<!- mfunc feat_school ->
<!- /mfunc feat_school ->