All SLPs follow a fairly standardized path into professional practice. They all start by earning a master's degree from a program accredited by the Council on Academic Accreditation in Audiology and Speech-Language Pathology (CAA), followed by a clinical fellowship, and then pass the ETS Praxis II: Subject Assessment in Speech-Language Pathology as the final step to earning state licensure. As a result, all speech-language pathologists are equipped with a similar foundation of knowledge and skills that allows them to successfully engage in the assessment and treatment of disorders related to speech, social communication, language, cognitive-communication, and swallowing for both adults and children.
While CCC-SLP certification and a state license serve as your credentials as a speech-language pathologist, authorizing you to practice SLP in the state in which you're licensed, they don't speak to those soft skills that turn a speech-language pathologist into an exceptional one.
Soft skills needed to be a speech and language therapist are vital – perhaps just as vital as the concrete scientific know-how and therapeutic skills taught through a master's in SLP and clinical fellowship. You've likely heard people talk about a doctor's "bedside manner" —a unique term to describe how well (or poorly) they interact with their patients. Speech-language pathologists, like any other clinician, must also work on creating an environment that allows them to better connect with their patients on a human level. This is the magic behind effectively turning a purely clinical relationship into a personal one.
Anybody who has been in the field long enough to have some experience working with a diverse group of patients will tell you that their bedside manner is something they consistently work to improve throughout their SLP careers. You can't expect to enter the speech-language pathology profession with your soft skills already honed to perfection. It takes experience and a thoughtful approach to each client interaction to reach that level, but in time it will become second nature.
So, what makes a good speech therapist, and what are the most important qualities of a speech therapist? You could come up with a long list of ways in which to make client interactions more positive and effective for both you and the patients you treat, but there are just three that stand out as the most qualities of a speech and language therapist:
1. Being Compassionate Is Perhaps the Single Most Important Quality of a Speech-Language Pathologist
2. Good Energy is Another One of those Vital SLP Qualities That Has to Come Naturally
3. Creativity Is an All-Important SLP Quality That You Won't Learn in School
---
1 – Being Compassionate Is Perhaps the Single Most Important Quality of a Speech-Language Pathologist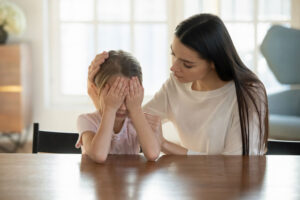 Compassion is king among the most important qualities of a good speech language pathologist. It's no surprise that the profession's most compassionate SLPs are usually the ones who enjoy the most success in their practice. Why? Because showing compassion for others allows them to let down their emotional wall and put trust in you. And when you've established trust through compassion, you can accomplish great things.
While compassion in speech-language pathology practice may be an obvious quality for therapists to possess, it's also one of those qualities that's easily forgotten at the end of a long day dealing with stressful situations and challenging patients. Having compassion means taking the time to:
Recognize and appreciate a patient's challenges, stressors, fears, and concerns
Free yourself of personal biases or assumptions
Ask questions and acknowledge a patient's feelings
If you can make a concerted effort to compassionately interact with every patient, every time – even the last client of the day showing up late to their appointment – then you'll be rewarded with more positive patient interactions and better results from your SLP therapy sessions.
2 – Good Energy is Another One of those Vital SLP Qualities That Has to Come Naturally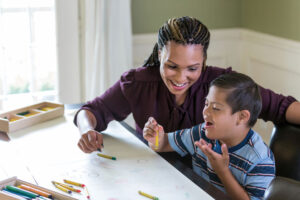 Enthusiasm doesn't mean giddy excitement – although this approach can be very effective when working with small children. It means showing up prepared and motivated to do what you love the most – helping your patients achieve a specific set of goals regarding speech, language, social communication, cognitive-communication and/or swallowing. When you approach each therapy session with the same positive attitude, your enthusiasm will naturally shine.
Positive energy comes from a warm smile, eye contact, and positive language that shows you are excited to be part of their speech-language therapy program. For example, with adults, this might be conveyed with a statement like: "I am really looking forward to seeing what we can accomplish today." … "I think we made great strides last session; let's work on continuing that today." … "I am really happy to be here with you today." … "Your hard work is really starting to pay off."
With children, enthusiasm may come complete with high fives, clapping, and cheering. Gauge the needs of the child and their response to positive praise. Keep in mind each child will respond differently to enthusiasm. For example, a child with autism may have a negative reaction to loud or enthusiastic displays. Instead, you may show your enthusiasm through positive praise and a fist bump.
When using positive encouragement for children, make it a point to use behavior-based praise ("You tried really hard. That's great!") instead of personal praise ("You're a good girl!"). Behavior-based praise is known to motivate children to take on challenges and strive toward goals.
Many SLP therapy treatments are frustrating for patients, and success in the field is rarely achieved in the short-term, so you can bet some of your patients will approach their SLP therapy sessions with little to no enthusiasm of their own. It's your job to set the tone of each SLP therapy session by putting your enthusiasm and positive outlook on display.
Never underestimate enthusiasm among the important qualities of a speech therapist!
3 – Creativity Is an All-Important SLP Quality That You Won't Learn in School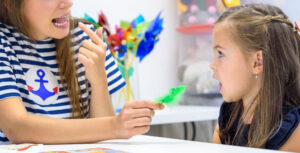 Day after day, session after session, your creativity may wane, and you may find yourself pulling out the same ol' strategies. Creativity in speech-language pathology means pushing yourself to find new and innovative solutions when you find yourself in a bit of a slump or if you're struggling to make gains with a particular client. It also means being willing and able to change gears and switch to a new technique if your patient is losing interest or not catching on to the exercise.
Make it a point to create and implement new strategies and techniques to make each therapy session fun, interesting, and challenging. The freedom to be able to flex your creative muscles is one of the great benefits of being a SLP!
For children, creativity means paying close attention to what interests them and then providing a nice variety of SLP techniques that aligns with their interests. For some children, it may mean playing a silly game, while for others, it may mean a fun arts and crafts activity.
Monotony is the downfall of any effective SLP therapy session, so it's always beneficial to switch up techniques and strategies. New and exciting ways to approach speech-language therapy is the best way to keep your patients motivated and engaged, regardless of their age!
An important aspect of your job as an SLP is to be a coach and motivator, and the best way to motivate your patients is by keeping things interesting.
Do these qualities of a successful speech-language therapist sound like you? Learn more about becoming an SLP!
<!- mfunc feat_school ->
<!- /mfunc feat_school ->