Somewhere in your town right now, a middle-schooler is struggling to get their words out. It's not their fault; they can't control it. For some reason, when they try to pronounce a word with an o-sound at the beginning, they just get stuck on it. The o keeps going, the rest of the word gets stuck. They are ashamed about it. They've found every way you can think of not to say those words, learned every synonym for "open" you can think of. But still, sometimes they can't get away from it.
Those kids need help, and qualified speech language pathology assistants are there for them. SLPAs help speech language pathologists in providing therapy and diagnosing problems related to speech, chewing, and swallowing. Those problems are experienced by around 8 percent of kids in the U.S. according to the National Institute on Deafness and Other Communication Disorders. It's a big problem, and it needs people with heart and skill to help.
SLPAs are regulated by the states, just like regular SLPs. But they do not usually require a full license to practice, only a registration or certification. The process is a lot more straightforward and doesn't take as much training or experience. Yet speech language pathology assistants often get as much or more patient contact. It's a great choice if you have a passion for speech therapy and love to see the results of your work up close and in person.
Getting a speech language pathology assistant certification is just one of many paths into speech pathology careers. But it is one of the fastest, and can be one of the most rewarding.
Looking For Speech Language Pathology Assistant Programs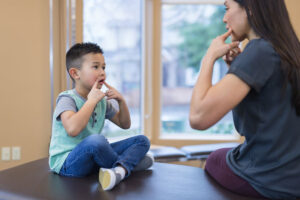 Although becoming an SLPA is relatively quick, that doesn't mean it doesn't take some hard work and training. State regulations almost always require that you complete specific training in the field to become certified.
In almost every case, that training either mirrors, or can be satisfied, by a program that tracks with the American Speech-Language-Hearing Association's (ASHA) educational standards for speech language pathology assistants.
There are three different types of programs that meet those standards:
A two-year SLPA program degree from an accredited institution
A bachelor's degree in communication sciences and disorders from an accredited institution
Either a two- or four-year degree from an accredited institution plus completion of an SLPA certificate program and online SLPA Education Modules from ASHA or equivalent coursework
All of these paths ensure you get the latest training in subjects like:
Communication disorders
Anatomy and physiology of speech and swallowing
Phonetics
Childhood communication development
Clinical communication practices
Phonetics
Ethics and professionalism
Together, it's all the groundwork you need to get started as a speech language pathology assistant.
Already have an undergrad degree and ready to become a speech language pathologist?Find a speech pathology graduate program near you quickly and easily on our site.
How long does it take to become an SLPA?
Because ASHA offers three different paths to SLPA licensure, that's not an easy question to answer! It can be as fast as about two and a half years, or as long as five depending on how you pursue your credentials.
Finding SLPA Programs Online
Speech language pathology assistant programs online are the new hotness. It's true that the pandemic pushed a lot of education toward remote options. But SLPA programs online have been around a lot longer.
By using asynchronous learning management systems to deliver coursework on-demand, these programs give you the option to shift your studies to any time that is convenient for you. Naturally, you can also study any place you can find an internet connection.
That makes them ideal for anyone who is already keeping a busy schedule because of family or work. You can juggle schoolwork into your lunch break one day, then turn around and do it after dinner the next… whatever time works.
And with advanced online communication systems like digital whiteboards, chat channels, and video conferencing, you get all the interaction you need with instructors and fellow students.
Can you become an SLPA online?
Because SLPA training can be pretty short compared to other speech-language therapy jobs, taking courses online is a popular option. ASHA even offers Online Assistant Education Modules as one certification option.
But while you can complete a lot of the required coursework online, you will still have to get your clinical fieldwork experience through face-to-face interaction. So at best, your SLPA training will be a hybrid experience with some online and some traditional work.
SLPA Certification is Key To Your Career
Learning how to become an SLPA revolves around ASHA certification. That means the Certified Speech Language Pathology Assistant (C-SLPA) credential.
Almost all jobs in the field will require the C-SLPA certification from ASHA. In almost every state, it will also qualify you for your state credentials as an SLPA.
The first step is getting the right education through qualified speech language pathology assistant programs, as outlined above. Whether as part of your degree or through a post-graduate certificate, you'll study
You're also required to complete three hours of prerequisite coursework in ethics, universal safety precautions, and patient confidentiality. Those may or may not be part of your SLPA program.
Finally, you'll have to take and pass the Assistants Certification Exam from ASHA. It's a 100-question, multiple choice exam created by educators, audiologists, SLPs, and SLPAs to evaluate your knowledge and competency.
The initial certification fee is $250, and the annual renewal cost is $125.
How do you become a speech assistant?
Briefly, there are four boxes you need to check to become a speech assistant:
Get a suitable college education at the associate's or bachelor's level
Complete ASHA-required prerequisite coursework
Put in a minimum of 100 hours of clinical field work in direct patient services
Take and pass the SLPA national examination
That earns the C-SLPA certification offered by ASHA and accepted by most speech assistant employers nationwide.
How to Find Speech Language Pathology Assistant Jobs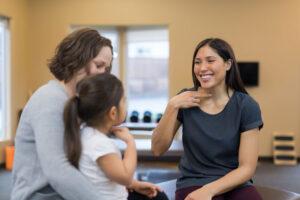 You can find SLPA jobs anywhere that you find SLP jobs. Speech language pathologists always need an extra set of qualified hands around. Speech and language therapy is intensively hands-on, requiring direct work observing and teaching patients in one-to-one visits.
Because SLPAs work under SLPs, for the most part they work in educational environments. According to ASHA, nearly half of all SLPs work in schools or other educational settings. So those are the most likely places to find SLPA jobs as well.
There are no separate job growth rates for speech language pathology assistants but the Bureau of Labor Statistics (BLS) forecasts growth for SLPs between 2019 and 2029 to hit 25 percent, a much faster rate than average for U.S. jobs. It's a good bet you won't have to look too far to find solid SLPA positions in your area.
What You Can Expect For a Speech Language Pathology Assistant Salary
Although we know that speech language pathology assistant jobs are important, unfortunately BLS does not track SLPA salaries specifically. Instead, they are grouped in a more general category called "healthcare support workers, all other."
That group makes just about $20 per hour, or over $41,000 per year on average. Those in the top ten percent, with the highest level of certifications and experience, can make $29.39 per hour, or more than $61,120 per year.
Of course, this doesn't quite compare to full SLP salaries if you check out speech pathologist salaries by state. On average, full SLPs earn $80,480 per year. So with a little additional training and the field experience you are getting under your belt, you can move up the ladder quickly and
How much do speech aides make?
According to the Bureau of Labor Statistics, the average annual salary of healthcare support workers is $41,430, or $19.92 per hour.
<!- mfunc feat_school ->
<!- /mfunc feat_school ->