As you probably know by now, becoming a speech language pathologist requires earning a master's degree in the subject. That advanced two-year degree, acquired from a program that has been accredited by ASHA (American Speech-Language-Hearing Association), is your ticket to certification and a fascinating career working with patients with speech or swallowing difficulties.
That advanced training is what helps you make the difference to hundreds or thousands of patients you will meet in your career. You study speech and hearing processes and come to understand the complexities of the human vocal tract. It's the kind of training that, in some ways, is only exceeded by medical professionals in that specific area of practice.
As comprehensive as master's-level training in SLP is, there is still more to be learned through a PhD in speech pathology.
A doctorate will take a minimum of three years to complete on top of your master's degree, but it will take you far further into the mysteries of human speech and communication. Just as important, it will teach you the kind of research and analytical skills to do more than just offer treatments out of a textbook. Instead, you will learn how new techniques in treatment and diagnosis are forged. Those treatments may even be created by you.
Ultimately, the choice to get a doctorate in speech pathology comes down to your personal preferences and ambitions.
You can have a complete career in the field with only a master's. But if you have that drive to expand your clinical knowledge, to perform research and build evidence in the field, to boost your career to the next level, then a doctorate in speech pathology could be the right choice for you.
SLP Doctorate Programs Come in Several Different Flavors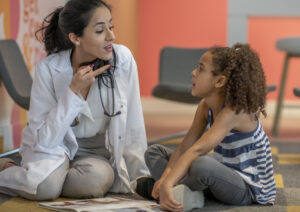 Once you decide to pursue that doctoral degree, your, next big choice comes in figuring out exactly what kind of degree that will be. In speech pathology, you have several different choices when it comes to the most advanced degrees in the business:
Doctor of Philosophy in Speech Pathology (PhD) – A PhD is the oldest and most traditional type of doctoral degree. This path is most closely associated with research and academic study of speech pathology. PhDs may be heavily invested in becoming professors in SLP or in performing high-level research that drives the field forward with groundbreaking new therapies or diagnostic programs.
Doctor of Clinical Speech Pathology (SLP-D) – The SLP-D is the clinical doctorate in speech pathology. The education is just as advanced and in-depth as in a PhD program, but the focus is more on treatment and working directly with patients than with research and academics. SLP-Ds expect to return to the workforce to use their new skills directly in patient treatment.
Doctor of Education (EdD) – Although an EdD is not technically a degree specific to speech pathology, many practitioners in SLP consider earning an EdD as their most advanced degree. That's because so many speech pathologists practice in education specifically. According to ASHA, 43 percent of SLPs work in schools. For individuals working in that environment, their career path may be most improved by getting a doctorate in education.
Any of these options can be used to boost your progress toward goals in any area; a PhD graduate can be an excellent clinical practitioner, or an EdD or SLP-D can become an acclaimed researcher. The areas of focus are just about extra emphasis in certain kinds of speech pathology work, but they aren't handcuffs.
Do you need to choose an accredited program for a doctorate in speech pathology?
There are only eight ASHA-recognized doctoral level speech pathology degree programs in the United States today. That's not a problem for licensure, since you will usually already hold a master's degree from an ASHA-approved program. It may factor in to your decisions about the quality and credibility of your education, however. You are about to drop tens of thousands of dollars and three or more years in studying speech pathology. You definitely want to make sure you are getting full value from the program.
EXPLORE UNDERGRADUATE PROGRAMS IN SPEECH PATHOLOGY!
What can you do with a doctorate in speech pathology?
Clinical doctorates in speech pathology prepare you for research work, advanced treatment practice, leadership roles, and set you apart with a unique level of expertise in a specialized area of practice. Doctoral graduates can become high-priced consultants, authors, managers, or college professors with their additional expertise.
Should You Choose From SLP Clinical Doctorate Programs Online?
Choosing SLP doctorate programs is made easier by the number of online options you can find from different universities today. A clinical doctorate is unlikely to be entirely online since hands-on practice is considered essential for actual treatment skills. Naturally, even programs marketed as being online would more accurately be described as hybrids. That means your basic classroom courses can be taken online via virtual classroom, often at a time of your choosing, while clinical practicum arrangements are made with a clinic or school in your area.
What Will You Study in a Clinical Doctorate in Speech Pathology?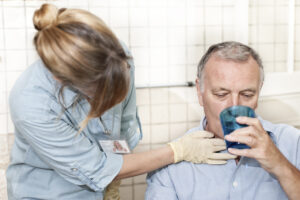 There's actually no mystery about the subjects you study in a PhD in speech pathology program. They are exactly the same things that you studied in your master's program:
Aphasia
Fluency disorders
Craniofacial disorders
Augmentative communication
Disorders of phonology and articulation
Swallowing disorders
Cognitive effects on language
The difference in a doctoral program isn't the type of subjects you study in speech pathology. It's the depth in which you go into them.
You'll also find a lot of additional study in research methodology, quantitative and qualitative analysis, and experimental design that will build up your original research skills. That lets you become the person who is developing new investigations and studying new treatments for speech disorders.
And you can't overlook your doctoral dissertation as an educational experience. Your dissertation involves original thought and research in your area of specialization which comes together in a publication-worthy paper that you develop over the course of most of the last two years of your program. It will come to represent you as a professional, with both potential employers and others in the field using it to evaluate your expertise and approach to practice.
Career and Salary Potential With a PhD in Speech Pathology
SLP careers are fulfilling and lucrative. So, do PhD in speech pathology salary levels blow the doors off the money and satisfaction you are already getting from your job with the master's you hold?
They might! A garden-variety speech pathologist makes $80,480 per year according to the Bureau of Labor Statistics (BLS). A doctorate could push you right into the six figure range, however.
SLPs also don't have to worry much about job security. BLS estimates that job growth in the profession will hit a sky-high 25 percent between 2019 and 2029.
A clinical doctorate in speech pathology does more than just qualify you for those jobs, though. It gives you the kind of credentials to get the best, most interesting, most satisfying jobs in the field. You can take your pick!
How much do speech pathologists make with a doctorate degree?
The US Department of Labor does not track the specific salaries offered to doctoral-level speech pathologists. However, it's reasonable to assume with the extra training, expertise, and experience you get from a doctoral program that you will land in the upper range of salaries in the field. According to 2020 data, the top ten percent in the profession can make more than $122,790 per year.
<!- mfunc feat_school ->
<!- /mfunc feat_school ->