Speech-language pathologist (SLP) and Board-Certified Behavior Analyst (BCBA)— You might be surprised to learn that these two professions actually have a few things in common, even though the scientific expertise, educational focus, scope of practice are entirely different:
They're both great careers for individuals with a desire to work with children… They both work in home healthcare, private practice, clinics, and schools… They both require practitioners to hold a master's degree at minimum and field-specific certification.
The biggest overlap is in the methodological approach to therapy. From the perspective of the communication sciences and disorders therapeutic practitioner community, even though these two therapies have a very distinct purpose and application, the methods of ABA actually can be applied to therapies that address skills related to communication, language, and feeding. This is ultimately what makes ABA relevant and worth knowing about for anybody in the field of SLP.
Make no mistake, even though there's an intersection between SLP and ABA and they sometimes work in concert to serve patients who might have a complex combination of disorders, these two therapies are worlds apart and occupy their own important and very unique niche.
Speech Language Pathology vs BCBA as a Career Choice – Which One is Right for You?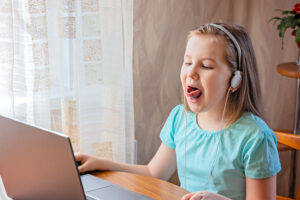 When you're talking about therapy, the question, is speech therapy better than ABA?, can only be answered by saying, it depends. Sometimes this question can be answered with another question: Is the issue purely behavioral or is there a biological basis? When you're talking about the kind of narrowly focused issues related to speech and communication disorders or disorders related to feeding and swallowing, a speech-language pathologist will almost always have the therapeutic solutions. These issues aren't always purely behavioral, instead they often have to do with the physical formation of musculature and other biological structures that affect the mechanics of speaking and swallowing. For behavior-related issues, on the other hand, even those related to speaking and swallowing, ABA can be the better choice.
Now, if you're wondering which one is better than the other from a career perspective, that's another question entirely.
Both ABA and SLP practitioners help their clients achieve a level of independence and both enjoy a high degree of personal and professional satisfaction and fulfillment. Many children work with both ABAs and SLPs, and both speech-language pathology and applied behavior analysis therapies treat children with speech and language difficulties or deficits.
But take a deeper dive into both SLP and ABA and the practitioners who provide it and becomes very clear that SLP careers are entirely different from careers in ABA:
Speech-Language Pathology and the Work of Speech-Language Pathologists
Speech-language pathologists treat speech, language, and swallowing disorders. Their work is focused on the prevention, assessment, diagnosis, and treatment of disorders and deficits associated with cognitive-communication, social communication, language, speech, and swallowing.
SLPs work with both adults and children with:
Language disorders, which include trouble understanding others and/or expressing feelings and thoughts. Clients with language disorders often have a limited vocabulary, have trouble putting words together to make sentences, and have difficulty using language in a socially appropriate manner.
Speech disorders, which include difficulty producing the proper speech sounds, difficulty with fluency (the flow of speech, like those who stutter), and difficulty projecting their voice and/or the tone and quality of their voice.
Social communication disorders (common with children with ASD and those with traumatic brain injury), which involve difficulty communicating socially (greeting others, asking questions, etc.) or difficulty following the rules of conversation or story-telling.
Cognitive-communication disorders (often occurs among those with dementia, traumatic brain injury, or stroke), which involve difficulty remembering, planning, problem-solving, and organizing thoughts.
Swallowing disorders (common with premature infants and patients following an illness, injury, or surgery), which involve issues with feeding and/or swallowing.
SLPs may use any number of strategies when working with clients. When working with children, they may simply get on the floor and play. They'll use toys, books, and other objects to stimulate language development, often utilizing repetition to build the desired skills. You'll also often find SLPs engaging in exercises designed to show clients how to move their tongue and mouth to make specific sounds. They'll model the correct sounds and syllables and encourage their clients to repeat them.
Feeding and swallowing therapy usually involves facial massage and exercises focused on strengthening the jaw, the tongue, and the lips. SLPs providing this type of therapy also often introduce foods (often with different temperatures and textures) to build on a client's oral awareness.
Applied Behavior Analysis and the Work of Board-Certified Behavior Analysts
Applied behavior analysis is a therapy focused on the science of learning and behavior. Behavior analysis works to understand how behavior and learning work and how behavior is influenced by the environment. In its applied form – applied behavior analysis is focused on understanding how behavior and learning work in real situations. The goal of ABA therapy is to increase helpful behaviors while decreasing behaviors that either impede learning or are harmful.
ABA therapy may be used to address any number of developmental issues, although the therapy has been largely heralded for treating children with autism spectrum disorder (ASD), and that's how it's most commonly used. BCBAs use ABA therapy to help children with ASD improve their language and communication skills, decrease problematic behaviors, and/or improve performance in academics, social skills, memory, and attention.
ABA utilizes a set of techniques that while adapted to each client, are based on a specific analytical technique. The ABCs of ABA, as they are often called: A – antecedent (situation or circumstances), B – behavior, C – Consequence. It's well understood that by changing the antecedent and consequence, behavior can change too. In many cases, this can be effective in addressing speech and swallowing disorders.
Positive reinforcement as a consequence has become a mainstay of ABA therapy. In its simplest form, it involves rewarding the client when the correct behavior is achieved, with the ultimate goal of encouraging positive behavior changes. BCBAs use a reward that is meaningful to the child (praise, toys, access to fun activities, etc.) as a way to encourage the child to keep using the learned skill/behavior.
One of the Big Differences Between ABA vs SLP Therapy is the Way They Approach Therapy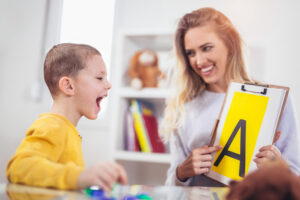 Speech and language disorders represent the main point of intersection for SLP and ABA therapies. While the intervention goals of ABA and SLP therapy in this context may be quite similar, their overall approach to therapy and treatment make them very different practices.
Despite the fact that both BCBAs and SLPs work with clients with speech and language impairments, their education, qualifications, goals, and therapeutic approaches differ.
Some SLPs view ABA therapy as too robotic, while some BCBAs view SLP therapy as lacking a clear plan or strategy. While SLPs often think on the fly, trying new strategies and techniques and then switching them up to keep their clients interested and engaged, BCBAs have a more structured plan of attack with measurable goals. BCBAs also collect data as the therapy progresses, making it far more formal than SLP therapy.
ABA is arguably more rigid in its approach, relying on structured repetition and measurable goals, while SLP is often more fluid, with SLPs approaching each therapy session in a more organic fashion. The strict behavioral techniques used by BCBAs are a clear departure from the eclectic approach taken by SLPs.
While ABA therapy often totals 10-40 hours per week, SLP therapy is completed in much smaller segments of time; usually just 30-60 minutes a week.
ABA therapy is focused on the successful adoption of behavioral change, while SLP therapy is focused on helping clients develop better language and communication skills without considering the role that behavior plays. For this reason, in the most basic sense, clients in SLP therapy are viewed as more active learners, while those in ABA therapy are viewed as more passive learners.
Can speech therapists do ABA therapy? Sure! It takes dual certification (SLP-CCC and BCBA) to be legally recognized as a practitioner in both areas and to have the ABA services you provide be eligible for insurance reimbursement in most states. But, even as an SLP-CCC without BCBA certification you can still most certainly incorporate some of the concepts and methods of ABA into your practice. In fact, if you have ever attempted to modify a client's environment or stimuli during a therapy session or ever offered positive reinforcement when a client reaches a new milestone, you already have made the ABCs of ABA a part of your practice!
Becoming a BCBA-SLP: A Career in Both Behavior and Speech Therapy Through Dual Certification (BCBA, SLP-CCC)
Can an SLP become a BCBA? Or can a BCBA become an SLP? Can BCBAs also do speech therapy, or can speech therapists do ABA therapy?
The answer to all those questions is yes, but with one big caveat. To be legally recognized as able to provide both ABA and SLP therapy and to have both types of services be eligible for insurance reimbursement, you'll need to be dual-certified as both an SLP-CCC and BCBA (Board Certified Behavior Analyst).
The two modes of therapy don't conflict with each other. In fact, in many cases and in many settings, they complement one another.
It's not unheard of to see SLPs and BCBAs working together to improve a client's verbal communication skills. SLPs can help ABA therapists with effective instruction for speech and language acquisition and are pros in the use of alternative communication, such as sign language and pictures. On the other hand, BCBAs may help SLPs better interpret their data and make quantitative decisions for building a client's language skills.
With this in mind, some SLPs have chosen to broaden their career opportunities by becoming certified as BCBAs, while some BCBAs have chosen to earn the CCC-SLP and become state licensed to practice as an SLP.
A small but growing number of BCBA/SLPs exist (current estimates have them at about 400). Holding dual certification may allow you to bridge the gap between the two therapies and offer a unique approach to your clients with ASD and other developmental disorders.
Both BCBAs and SLPs are educated at the master's or doctoral level, both must complete a period of supervised practice, and both must hold national certification. There aren't too many shortcuts to achieving recognition and certification in both areas. Here's what's involved:
Degree Requirements
BCBAs must hold a master's or doctoral degree in behavior analysis or an educational degree with specific coursework in education or psychology.
SLPs must hold a master's or doctoral degree in SLP or communication sciences and disorders.
Clinical Requirements
SLPs complete a supervised clinical experience of at least 400 hours that must include work with individuals across the lifespan and with various types of severities of communication and/or related disorders.
BCBAs complete supervised independent fieldwork that includes at least 1,500 hours of supervised fieldwork, a practicum of at least 1,000 hours, and an intensive practicum of at least 750 hours.
National Examination
State Licensure
All 50 states license SLPs, with all either requiring or recognizing the CCC-SLP as a pathway to state licensure.
As of 2021, 33 states license BCBAs.
<!- mfunc feat_school ->
<!- /mfunc feat_school ->