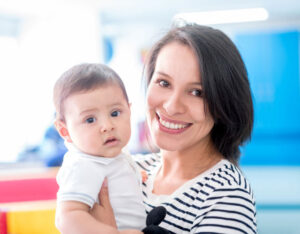 Effective communication is fundamental to human development and plays a critical role during the formative years of a child's life. Without the ability to communicate clearly, children lose access to many of the educational experiences that will mold them into adults. The situation is frustrating and debilitating for the children involved, and stressful and painful for their families.
Speech-language pathologists using early speech intervention can address those problems at the source with life-changing therapeutic interventions that make a difference for those children and their families.
So, what is early intervention speech therapy and what age is early intervention for speech? Let's look at how early intervention SLP works.
<!- mfunc feat_school ->
<!- /mfunc feat_school ->
What Is Early Intervention Speech-Language Pathology?
What is early intervention SLP and what is the earliest age for speech therapy? At its core, early speech interventionfocuses on diagnosing and treating speech disorders in young children—from infancy to age three. Early intervention speech therapy goals include addressing issues like stuttering, speech and sound disorders, speech delays, and voice disorders.
Because infants and toddlers haven't yet developed the logic and reasoning of older children and adults, the therapies and techniques required for early speech intervention are much different than speech therapies for an older patient.
Studies have confirmed that early detection of speech and language difficulties, and subsequent treatment at the youngest possible age, can make a dramatic difference in ensuring positive outcomes for young patients.
Stuttering, for example, was one of the earliest disabilities the emerging field of speech-language pathology addressed, and it remains a significant affliction in early childhood and an important part of the SLP field.
Stuttering usually begins between the ages of two and five, and an estimated five percent of the population will struggle with the affliction. But effective early intervention speech therapy can reduce stuttering, as demonstrated by the Lidcombe early intervention program study which was shown to reduce syllabic stuttering by more than half over a nine-month period. Through such early intervention SLP, more than 80 percent of afflicted children lose their stutter before entering their teen years.
What Does an Early Intervention Speech-Language Pathologist Do?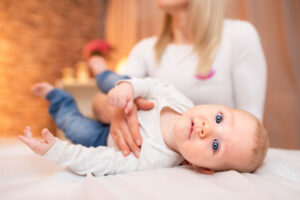 Though "early intervention" is classified as happening between birth and age three, an early intervention SLP may work with kids up to five years old before transitioning their patient to a different treatment plan. As such, they need a variety of treatments to span that range.
What is the process of early intervention? First, an early interventionist must be able to diagnose conditions based on relatively few clues from their patient, as children lack the tools to communicate what they are feeling or experiencing. SLPs must look for indicators such as:
The presence or absence of common baby talk sounds
The patterns in which a child moves their lips and tongue
The timing of an infant's first words
Difficulties in the formation of categories of sounds
Sensitivity of nerves around the mouth to touch or temperature extremes
Combining subtle hints from those and other observations, as well as assessing risk factors for future speech-language issues, the SLP then develops an effective diagnosis, treatment plan, and prevention toolkit against the development of future disorders. Early intervention speech therapy goals include developing skills such as:
Phonology
Semantics
Morphology and syntax
Pragmatics
Literacy
What does a speech therapist do in early intervention? Early intervention SLPs are often in the unique position of being able to incorporate games and play in the therapeutic process. Many children respond better to therapy couched as a game—and many speech therapies and diagnostic routines have the repetitive tone of a game anyway. Early intervention speech therapy activities include:
Imitation and sound echoing games
Physical therapies to strengthen the oral muscles, like blowing bubbles
Object identification and verbalization using books, picture cards, or other materials
When children face speech issues at a young age, it is commonly the result of other diseases or disabilities, such as autism, cerebral palsy, deafness, or apraxia. Consequently, an early intervention SLP often works as part of a multidisciplinary care team, discussing treatments and developing a long-term action plan with other medical and education professionals.
Early intervention SLPs must also be able to communicate effectively with parents and immediate family members who may be having serious difficulties themselves coping with the situation or even understanding what early intervention therapy's role in their child's success is. It's important to be able to educate families on treatment strategies and the best way to support children who may still be in prelinguistic phases of development.
How Can I Become an Early Intervention Speech-Language Pathologist?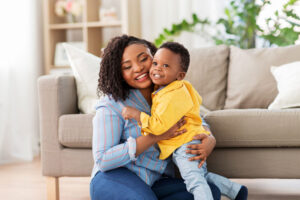 To start a career in early intervention speech therapy, you'll first need to earn your bachelor's degree in communication sciences and disorders (CSD). This will provide you with a foundation in the research, philosophies, and practices of speech-language pathology including anatomy, linguistics, and language disorders.
Your BA will prepare you for the next step, which is earning your master's in speech-language pathology. Most states require a minimum of a master's degree in order to become clinically licensed to practice. Your graduate program is where you can specialize in early intervention speech therapy, taking courses specific to diagnosing and treating children under age five. Your program will also include a clinical practicum, which is a precursor to your clinical fellowship.
After earning your MA or MS in speech pathology, you'll embark upon your fellowship. During your clinical fellowship, you'll gain valuable field experience under the supervision of a licensed SLP before you can take the national Praxis exam to become eligible for your state license. Passing the exam allows you to then apply to your state's licensing board to become an early intervention SLP.
Early Intervention Speech-Language Pathologist Job Outlook
Speech-language pathology careers are in very high demand—in fact, according to the U.S. Bureau of Labor Statistics, the field is expected to grow by 29% over the next decade. In large part due to the expanded understanding of various developmental and behavioral conditions, such as autism spectrum disorder (ASD), SLPs are highly valued for their ability to induce significant progress in disorders that have historically been unresponsive to traditional cognitive or physical therapies.
Especially because of how integral the earliest childhood years are to a person's eventual adult development, early intervention speech therapy is that much more critically necessary. Speech-language pathologists also enjoy very comfortable pay—the 2020 BLS data placed the median salary at $80,480.
Start Your Early Intervention SLP Career
Through early speech intervention, you can radically change the trajectory of a child's life for the better, affecting far beyond just their childhood years. It starts with an accredited SLP degree program that will give you the solid foundation you need to become a difference in your patients' lives. Learn how to become a speech-language pathologist today.