The Best Accredited SLP Master's Programs for 2022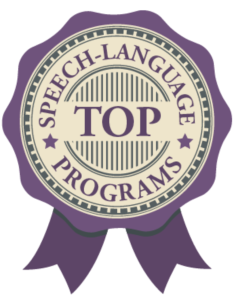 Think of  your master's program as the foundation for your entire career. It's the gateway to meeting your pre-professional experience requirements and it qualifies you to take the Praxis exam required for state licensure and the CCC-SLP. And if you plan to work in the schools, even all this is just a step to the additional licensing you're going to need.
There's a lot to accomplish before you can call yourself a speech-language pathologist and tag those credentials on at the end of your name… and it all starts with your speech pathology master's degree.
Everybody knows you need to choose a program that's been accredited by the Council on Academic Accreditation (CAA), the accrediting arm of ASHA. You can be sure any program that's earned that CAA stamp of approval meets ASHA's exacting standards.
But we've been talking to prospective SLP grad students at that critical stage when they start seriously considering their options, and what we've discovered is that they want to know quite a bit more before making a decision.
Today's savvy grad students understand that an advanced degree is an investment in the future, and they're doing their due diligence to make sure it's a sound one. If only you could find everything you need in one place so you could make a meaningful side-by-side comparison of all these CAA-accredited programs – things like Praxis exam pass rates and employment rates among graduates, program completion rates, info on the kinds of practicums the program offers… and, of course, cost.
<!- mfunc feat_school ->
<!- mfunc search_box_nav_empty -><!- /mfunc search_box_nav_empty ->
The good news is that CAA requires schools to post student achievement data… and the better news is that SpeechPathologyGraduatePrograms.org has collated this data and put it all in one place. But what we did with that data is the interesting part…
How We Made Our Assessment
We looked at the 240+ accredited programs that made student outcome data available and…
Identified Praxis exam pass rates, on-time completion rates and employment rates posted on each school's website
Found the average annual tuition cost for graduate programs at each school by looking at the Department of Education's National Center for Education Statistics
Developed a formula for grading these programs, giving weight to both student outcomes and comparative cost
We went to great lengths to make sure we made a fair and accurate assessment of every program we looked at…
Cost and affordability – We started by finding the average yearly tuition for schools offering SLP grad programs in each state, looking at the cost of state and private universities separately. This means that our cost assessment is always based on a comparison of tuition rates for either public or private schools within a given state, not just some arbitrary review of which school offers the lowest cost program. This ensured we made an apples to apples comparison.
We also gave a nod to schools that offer comparable tuition rates to students regardless of residency status, something we feel is worth considering as more grad students shop for programs from throughout the country and more international students come to the U.S. for their graduate work. Some public universities are even beginning to offer grad programs at in-state rates regardless of residency status as a way to attract students and remain competitive.
On our 100-point scoring scale, cost and affordability represents 30 possible points.
Student achievement – Praxis exam pass rates, on-time completion rates, and employment rates speak for themselves and represent the most concrete metric available for assessing the quality of a program. CAA requires schools to post student outcomes for the three most recent years – so we made our assessment based on the 3-year average for each of the student achievement categories: percentage of students graduating on time … percentage of graduates that pass the Praxis exam …. percentage of those that go on to land jobs immediately afterward.
Student achievement is worth a total of 70 points on our 100-point scoring scale, with 30 possible points for Praxis exam pass rates, 30 possible points for employment rate, and 10 possible points for on-time completion.
Want to know more about our scoring system? Take a look at this.
We identified more than 100 programs that scored 80 points (B-) or better, and we think they deserve some recognition. So here you have it, our 2022 list of the best accredited master's programs in SLP and Communication Sciences and Disorders available in the U.S.
This list features programs that our editorial staff hand selected to present as top recommendations. We believe the many aspects of a program that come together to create an exceptional student experience can't be reduced to numbers alone, so no formula was used to attempt to score or rank these programs. Instead, they represent our top picks based on a thoughtful review of the things we know mean the most to students. Each one of these programs offers something unique, and all come equally highly recommended. We stand behind the principal of editorial integrity and make these recommendations independently and without compensation.
---
Masters Program Scoring Metrics
Student Achievement – 70 Total Possible Points
All student achievement data was taken directly from each school's website.
Scoring is based on the three-year average percentage in each of the three categories (Praxis exam pass rates, on-time completion rates, and employment rates).
We looked at the three most recent years of available data for each school. In virtually all cases, this was the 2014-15, 2015-16, and 2016-17 academic years. For the few schools that have not yet posted 2016-17 data, we looked at the 2013-14, 2014-15, 2015-16 academic years.
We awarded points for student achievement in accordance with these ranges:
Exam Pass Rates – 30 possible points
100%: 30 points
95% – 99.9%: 25 points
90% – 94.9%: 20 points
85% – 89.9%: 10 points
80% – 84.9%: 5 points
Less than 80%: 0 points
On-Time Completion Rates – 10 possible points
100%: 10 points
95% – 99.9%: 7.5 points
90% – 94.9%: 5 points
85% – 89.9%: 2.5 points
Less than 85%: 0 points
Employment Rates of Graduates – 30 possible points
100%: 30 points
95% – 99.9%: 25 points
90% – 94.9%: 20 points
85% – 89.9%: 10 points
80% – 84.9%: 5 points
Less than 80%: 0 points
Cost and Affordability – 30 Total Possible Points
All tuition data came from the U.S. Department of Education's Institute of Education Sciences National Center for Education Statistics (IES-NCES) database.
IES-NCES provides annual tuition data for each school as an average of all graduate programs the school offers.
All cost and affordability scores are based on how each program's costs compare to the average within their own state and for their respective category (public or private).
We awarded points for cost and affordability based on these metrics:
Same as state average or below:      20 points
Within 10% above state average:  10 points
Tuition for out-of-state students no more than 25% higher than for in-state students:      10 points*
Note: As a rule, for schools that offer the exact same program at multiple campus locations or both on-campus and online, we scored and provided data for the location or delivery format with the best student outcomes. In a few instances where additional campus locations represent the only option for SLP education in the region, we scored and provided data separately for these locations.
* The 25% spread in our scoring system allowed public universities to be able to compete in this category. Though public schools typically charge a considerably higher rate to out-of-state students, it is becoming more common for them to offer the same rate across the board as a way to be more competitive and to attract international students and students from elsewhere in the country. Though private universities charge higher tuition rates than state schools, they typically offer the same rate regardless of residency status. Public schools routinely offer tuition rates that align with other state schools, but since private universities aren't bound by the same restrictions their rates can vary widely from the mean and place them outside the allowable range for being awarded points. By including this category, we were able to create a more equitable scoring system that ensured both public and private schools have an equal chance of qualifying for inclusion on our list.
---