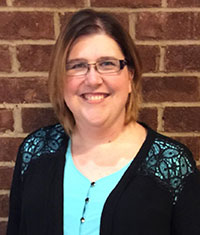 Alyssa Conger is the president of the Tennessee Speech Hearing Association (TAASLP), the state's premier professional association representing audiologists, speech-language pathologists, and their valued clients. Under Alyssa's leadership, TAASLP promotes professionalism, advocacy, education, and networking, and serves as a resource for both practitioners and the public.  
Since graduating from Tennessee State University (TSU) with her master's in Speech and Hearing Science in 2012, her passion for helping those afflicted with communication disorders has only grown through her professional practice, which has involved working everywhere from the public school system to the Cookeville Regional Medical Rehab Center to working with individual clients through telepractice.
She is especially dedicated to her pediatric clientele, which includes children with autism spectrum disorder. In her free time she actively campaigns for the SLP profession, bringing awareness and change to local legislative issues. 
<!- mfunc feat_school ->
<!- /mfunc feat_school ->
Q: Before I start firing off questions, I'd like to learn more about you. Can you give us a little background information about your official title, job description, areas of specialization, place of employment, etc.…?
Alyssa: My name is Alyssa Conger and I am a speech-language pathologist (SLP) in Tennessee. I work at Cookeville Regional Medical Center Outpatient Rehabilitation where I serve the pediatric population. I've worked in this facility for the past 2-plus years. I also have experience in the public schools and in the exciting world of telepractice.
Q: Tell us more about telepractice and what makes it such an exciting medium for providing SLP services?
Alyssa: Telepractice uses video conferencing between the therapist and the patient so that patients who might not have access to speech-language therapy can receive those services no matter where they might be located.
Speech-language pathologists can work with patients in any state across the country from the comfort of home as long as they are licensed in the state in which the client lives. I know speech-language pathologists who have licenses in multiple states exactly for this reason.
Q: What initially sparked your interest in speech-language pathology?
Alyssa: In 2003 I contracted viral encephalitis and I was unable to speak for a short period of time. During that time, I was in horrible pain but had no way to communicate this with others.  After I made a full recovery, I decided to change my career.
I had a passion to help others from a very early age.  A childhood friend of mine taught me the sign language alphabet when I was in 3rd grade, and I really wanted to teach deaf children.  Later, when I found speech-language pathology I knew this career was for me.
Q: What kind of formal education/training did you acquire prior to employment? Did the education/training you received adequately prepare for the realities of working in telepractice?
Alyssa: I obtained my master's degree from Tennessee State University (TSU). The graduate program I attended adequately prepared me for all areas of the field, and the clinical fellowship experience was extremely valuable.  It's nearly impossible to learn about everything I have encountered in practice through graduate school alone.
I have had many mentors along the way who have helped shape me into the clinician that I am today.  I was fortunate to have access to multi-disciplinary teams in the school including occupational therapists, behavioral therapists, physical therapists, etc.  The individuals from these professions provided some valuable input that I continue to use today. For example, the occupational therapists I worked with taught me about sensory integration, and the need for some children to have a sensory diet in order to be successful in the classroom and in therapy. They also taught me the importance of using visual supports such as visual schedules to help children follow the expected routine in therapy.  Behavioral therapists helped me to understand why children behave in certain ways and the best way to shape behavior in the moment based on the child's needs.
Most importantly, I learn from my clients.  I learn something new from them every day, which is why I love my job. The children I work with challenge me to learn more.
Q: Working with children must be challenging. Why did you decide to work in pediatrics?
Alyssa: I love the energy of children. Children are resilient in many ways, and I love seeing them grow and change. When children start therapy as "a hot mess" with regard to their language abilities or articulation errors and I see the progress that they make I feel like I'm changing their future. Without therapy they could be easily overlooked as a child who just doesn't get it or simply as a child who cannot be understood when they speak.
When they make progress and I see the excitement and the confidence radiating from them it is a completely overwhelming experience. On the flip side, working with children is challenging at times. I've seen some meltdowns that would make even the most patient person want to run out of the room. I've had days that I may not see the progress that I wish I could see. In my experience the good far outweighs the bad, and I could not imagine working with any other population.
Q: Describe a typical workday for us. We'd love to hear details!
Alyssa: I typically start my day between 8:00 and 8:45, and I see patients until approximately 5:00 in the afternoon Monday through Thursday. I see between 10 and 13 children individually during the day, working with children who need help pronouncing words correctly or children who have receptive, expressive language disorders. This means that a child either does not understand language concepts or they cannot express themselves appropriately. Some children have a difficult time with both areas of language.
I also see children with cognitive impairments. Children with autism spectrum disorder make up much of my caseload. Their difficulties with language can include receptive, expressive and/or social language use. Because play is a child's first experience with language, play is a big part of what we do. Playing with children enables me to label vocabulary for them such as pictures on puzzle pieces, shapes, colors, numbers, etc.  This also gives them encouragement to repeat the labels that I provide for them.
Children with articulation issues (pronunciation of sounds) are a little different. Because drill and repetition are important elements of this type of therapy, they usually work to earn playtime or a turn in a game. At the end of the day or if I get breaks throughout the day, I interpret the data collected during the sessions and document the treatments.
Q: Do you think academic institutions are keeping up with the changing trends within the SLP community?
Alyssa: All academic institutions are accredited through our national organization (ASHA). ASHA has stringent guidelines to become accredited and to maintain accreditation with them.  I can't speak of every institution, but the students who I have encountered are well prepared and are knowledgeable with regard to current practices in our field.
Q: How important is technology to your profession? In what ways does it help or hinder client outcomes?
Alyssa: I use technology every day. I have apps on my iPad for speech and language development. However, because so many children spend way too much time on screens, the majority of our playtime is with toys and games. Many children don't know how to play appropriately with toys, but they can swipe the screen of a device to find a preferred app in a matter of seconds.
Q: What is the hardest part of your job? What can be done to make it easier?
Alyssa: The hardest part of my job is documentation. I enjoy working with even the most challenging of children, but at the end of the day, when I've given every ounce of energy to them, it's difficult to muster up the energy to do the required paperwork.
Unfortunately, the state and federal government requires that this documentation gets done, so there is not much I can do to avoid it.
Q: What are the biggest rewards that come with the work you do? Do the rewards outweigh the challenges?
Alyssa: The biggest reward is seeing the look on a parent's face when their child says "Mama" for the first time or says any first word. Hearing a child say a speech sound that they previously could not produce and seeing the pride on their face is priceless. Watching a child use a speech-output device to request a toy or a treat and see their eyes light up because they were able to get a desired item for the first time is also priceless.
The rewards far outweigh the challenges. My feelings at the end of the day are exhaustion mixed with pure joy. I love what I do.
Q: What has been your most memorable moment working as an SLP?
Alyssa: There are many to choose from, but I think my first most memorable moment is when I received a letter from a parent thanking me for giving her daughter a voice. Her child had speech that was very difficult to understand and at times this created frustration within the family. She rarely defended herself to her sister when there were disagreements. After this little lady began speaking more freely, she was able to defend herself, and she was able to communicate a variety of emotions that she was previously unable to do.
Q: That definitely sounds like a difficult case. What has been your most challenging case to date? How did you approach it?
Alyssa: My most challenging cases typically involve behavioral issues, which can be attributed to some disorders. There was a child who would just not follow directions during our sessions. He ran around the room opening the closet door, dragging out toys, etc. I allowed him to bring out one or two toys, and then I shut the closet door and brought out my token board. I explained that he could play with either of the toys as long as he earned the five tokens first. This worked and he performed the tasks I needed and earned his reward.
The best part was the look on his mother's face. She couldn't believe how well a simple board with five pennies was able to wrangle her little angel. I call it "kryptonite." Most children will cooperate for a chance to earn something, especially if they can see the progress they are making.
Q: How do you cope with the stresses of working in the SLP field? Do you find comfort in your co-workers?
Alyssa: I stay VERY BUSY and so do my coworkers. I don't really find my job itself stressful; it's the sheer magnitude of the number of clients that I see in a day and paperwork that can feel overwhelming at times. My coworkers are in the very same boat, though, so we do find ourselves bouncing ideas off of one another for streamlining our workload. I feel very blessed to work with amazing people and to have the full support of my supervisor.
Q: It must be incredible to be the president of the Tennessee Association of Audiologists and Speech-Language Pathologists (TAASLP). Which of the TAASLP's accomplishments are you the proudest?
Alyssa: My position is voluntary, but I see my role as president as one of my highest accomplishments. I love having the opportunity to represent our association as I help new graduates navigate the licensing process. I have enjoyed meeting new people and networking with others in our field, especially at our annual convention. I enjoy getting involved with legislative issues as well.
Q: Whoa. That sounds exciting! What kind of legislation issues do you get involved in?
Alyssa: The biggest legislative issue we are fighting right now in our state involves the professional privilege tax the speech pathologist and audiologists are required to pay. Other professionals such as doctors and lawyers are required to pay the tax as well, but our income is not equivalent to theirs and we have been fighting this issue for some time. Hopefully, we will be successful in the near future.
No other state in the union has a tax that is similar to ours or as expensive, and no other states require SLPs to pay a professional privilege tax.
Q: How do you measure your own success? In what ways could you become more successful?
Alyssa: I measure my success one child at a time. When I am able to observe the hard work manifested through their communication, I feel successful. I usually feel successful many times a day, which is why my career is the best. I'm sure that there is always room for improvement, but I feel successful every day.
Q: How does your professional success affect your personal life?
Alyssa: On a personal level I feel that becoming an SLP has made me a better parent, a more patient one for sure. I also feel that I have greater compassion for people in general, especially with moms who are in the dark night of toddler tantrumhood. I have difficulty at time balancing work and life because I love my career so much, but I am trying to become better at managing those things.
Q: What advice do you have for students interested in becoming future SLPs?
Alyssa: Just do it… Graduate school is hard, but it's worth it, so keep your eyes on the prize!!
This career is in high demand and will continue to be in high demand for years to come.  I doubt you will ever need to worry about finding a job.
<!- mfunc feat_school ->
<!- /mfunc feat_school ->